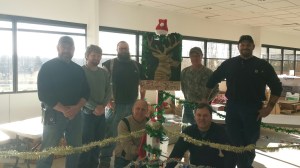 The United Way of Northern New Jersey recently thanked the company's New Jersey volunteers for making a difference in the lives of thousands of individuals this holiday season.
United Way Manager of Regional Volunteer Engagement Lisa Galonardo sent the following letter in appreciation of Williams participation in its 27th annual Gifts of the Season program.
"Because of your generosity, more than 3,600 individuals and families received over 7,700 gifts donated from warmhearted people in our community…"
Galonardo continued, "In addition to the wonderful decorations and the set up by the Williams team, we also want to specifically thank Tom Berry, Joel Rivera and Chris Herrick for their hard work and really going above and beyond in helping us and our partner agencies with moving gifts, clearing out our space and generally doing much of the heavy lifting. It really meant a lot to us."
Thanks Lisa! We're proud to contribute to the great work United Way does to provide a brighter holiday season for many children, families, senior citizens and adults with disabilities in our
community.