As part of the Dalton Expansion Project that will provide additional reliable natural gas service to utility companies in northwest Georgia, Williams has been getting to know residents of the City of Whitesburg in Carroll County.
By listening to community members, Williams chose to invest dollars in the City of Whitesburg's public library, which is part of the West Georgia Regional Library system. Working with library staff, we made a $5,000 contribution for the library's Science, Technology, Engineering & Math (STEM) program – specifically for their Young Engineers Camps, IT Hot Spot in the Whitesburg Library and for their STEAM Programs ("A" includes the "Arts").
Because of this grant and our outreach to the library, the West Georgia Regional Library nominated Williams to receive an Excellence Award, which we received at a City of Whitesburg Council meeting.
"This was a great opportunity for us to not only be good neighbors, but also to begin integration into the community where we will have a presence for years to come," says Maria Palacios with Williams' community outreach.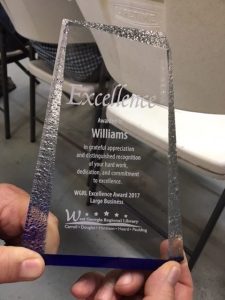 Kelly Wilder, Williams' chief inspector for the Dalton Expansion Project, will oversee operations at the nearby compressor station and will continue to build relationships with community members and local organizations.
Williams also contributed $5,000 to Christian Ministries in the City of Whitesburg to support their food bank and plans to make a donation to the city's Fourth of July celebration to help the community enjoy a fun Independence Day.