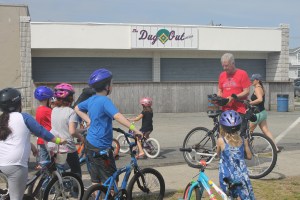 The Rockaway Point Association (RPA), armed with a grant from Williams through its Rockaway Community Grant Program, recently hosted its First Annual Bike Safety Rodeo.
Joanne Fogarty, executive director and positive force of energy for the organization, was excited to add this event to their list of other fun and interactive community offerings. She said "this event came about because there was a real need to educate youth on safety and common sense tips for riding bikes in areas with pedestrians, and the grant from Williams helped make this event possible."
RPA, along with a bike expert from SafeKids Queens, partnered to host the Bike Safety Rodeo. Participants took part in a bike safety talk and had the opportunity to run through a series of safety drills where they learned agility and control, rules of the road and common etiquette.
In Rockaway, New York, bike helmets are required for all riders 14 and under, and bikes are required to have a bell and two reflectors, so the Bike Safety Rodeo also included a tutorial on how to properly secure and wear a helmet and a bike inspection to ensure all bikes met safety requirements.
Joanne expressed her thanks to Williams for helping to improve and enhance the lives of the people who live on the Rockaway peninsula. She went on to add that "Williams and the RPA have partnered on various programs over the past couple of years, which have included support for bay races, kid's programming, beach wheelchairs, and community AED's."
Partnerships such as the one Williams has with RPA is just one more example of Williams' commitment to the committees it serves by acting as a good neighbor and through involvement and support for community activities.