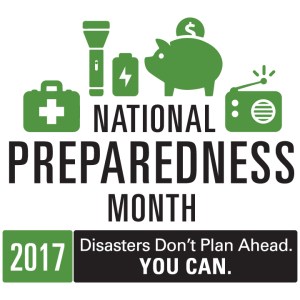 This year with tornadoes churning up everything in their path throughout the country and Hurricanes Irma and Henry hammering the coasts, National Safety Preparedness Month could not have come at a better time. Their overarching theme, "Disasters don't plan ahead. You can." is right on target.
While most of us think we know what we would do in the event of an emergency, do we really? Do we have a solid plan? If so, have we communicated that plan with other family members so everyone knows what to do in the event of an emergency? If you cannot answer "yes" to each of these questions, then now is the perfect time to make a plan.
As you prepare your plan, make sure you are aware of the potential hazards in your area, e.g. is your area prone to tornadoes? Earthquakes? Hurricanes? Snow and ice storms? If so, learn what to do in the event of one of these emergencies by visiting Ready.gov and then include their tips in your plan.
Be informed. One simple way to be prepared for these types of emergencies is to sign up for local alerts and warnings to be delivered to your home or mobile device from your local news outlets. Make sure each family member with a mobile device is signed up for the alerts as well.
Natural disasters are not the only emergencies to prepare for. What would you and your family do in the event of a house fire? What is the evacuation plan? Where is the designated spot for family members to meet after they exit the burning home?
These and other questions are critical when developing your plan to ensure you and your family are prepared to face any emergency in the safest way possible.
So, while at Williams safety is priority one, and we are fully committed to the health and safety of our workforce, and the protection of our neighbors, the environment and our assets, we are fully committed to promoting safety at home as well.