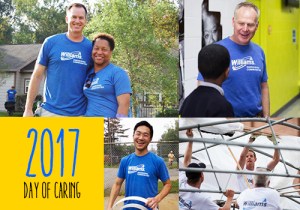 They planted, painted, repaired and inspired. Scores of Williams employees volunteered in their communities across the nation during recent Day of Caring events to benefit United Way chapters and their partner agencies.
In Salt Lake City, 65 employees worked alongside students to complete a variety of projects at Kearns High School.
"Your employees were terrific role models for my students," said botany teacher Robert Greider after a project to renovate a greenhouse. "Team work, planning and problem solving are skills we try to teach students at Kearns."
The school benefits greatly from the United Way and volunteers like those from Williams, said Derrick Welling, who chairs Williams' Salt Lake City United Way campaign.
"Although nearly half of the students live at or near the poverty level, graduation rates have increased 27 percent, the highest growth in the state of Utah."
In Tulsa, Williams employees comprised the largest number of volunteers from a single company, with 432 volunteering for 27 Day of Caring projects.
"Day of Caring goes beyond simply serving our community," said Dustin Bohard, who helped coordinate the projects for Williams.
"It allows us to meet and interact with agencies that have such a profound impact to the Tulsa area," he said. "We get to understand their missions, hear their stories and even meet some of the clients they serve."
In Houston, about 100 Williams employees performed carpentry, landscaping, organizing and mural painting at West Houston Assistance Ministries (WHAM). WHAM is an outreach and support center that provides financial education and job skills training, an on-site food pantry and resale store.
"After Hurricane Harvey, the local need for WHAM services is greater than ever," said Williams' Day of Caring organizer Nathan Davidson.
"We had some sizable projects that were mentally and physically challenging but accomplished with tremendous skill and coordination from our team," he said.
Pittsburgh employees had multiple Day of Caring projects over several months, including sorting food at the Greater Pittsburgh Community Food Bank, updating a community center and cleaning transitional housing for veterans.
"It was a winning situation all around," said Candyce Fly Lee, who organized the events for Williams. "Employees were able to give back to their community and work with others who they normally don't interface with. And the Sewickley Community Center especially benefited from a skilled labor force. Projects were completed that would have taken years without our help."
Thanks to all Williams Day of Caring volunteers!