Williams partnership to restore historic airplane hangars at New York's Floyd Bennett Field was honored by the Advisory Council on Historic Preservation with the Chairman's Award for Achievement in Historic Preservation.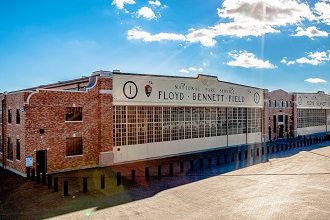 The award was given during the group's fall business meeting in Washington, D.C. The rehabilitation project avoided environmentally costly new construction, and is an excellent model for the adaptive reuse of large historic industrial buildings, according to the Advisory Council.
The project was a partnership with the Federal Energy Regulatory Commission, National Park Service, and New York State Historic Preservation Office.
Williams agreed to restore the hangars' dilapidated exterior as a condition of using the buildings to house Transco's 60,000-square-foot Rockaway expansion delivery station, which includes measurement, pressure reduction, over-pressure protection, gas heaters, and full back-up power generation equipment.
The hangars, once the point of departure for record-breaking flights of famous aviators like Amelia Earhart and Howard Hughes, have been restored to their full 1930s glory.
Floyd Bennett Field was listed on the National Register in 1981 due to its commercial aviation architecture, which is highly representative of the mid-20th century. The site was converted to a Naval Air Station in 1941, and it was the most active airport in the United States during World War II.
"It is an honor to be recognized for all of the hard work that went into the hangar rehabilitation effort," said Stephen Kellogg, staff project manager for Williams' Transco pipeline. "As crucial as the Rockaway Delivery lateral project was for Williams, it would not have been possible without the innovation, teamwork and execution that made the hangar rehabilitation effort possible. It was as complex and challenging a project as I've ever worked on, which makes this award all the more special."