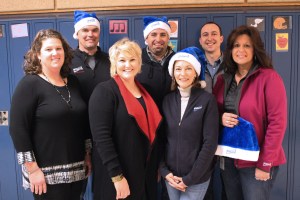 Across the country, Williams employees display their giving spirit. Whether it be toy drives, food drives, warm clothing drives, preparing care packages for our military or providing supplies for seniors, our employees are committed to making sure others in their community and those serving abroad have the happiest of holidays.
Some examples of holiday giving include:
Our teams working on the Atlantic Sunrise Pipeline Project in Pennsylvania collected toys and gifts for kids in the communities near the project. We partnered with area organizations including the Salvation Army and Toys for Tots.
Employees at the Susquehanna Supply Hub in Tunkhannock, PA provided gifts for the Children Service Center of Wyoming County, delivered care packages to the senior center and took a turn as bell ringers for the Salvation Army.
Employees at our Echo Springs Plant in Wamsutter collected toys and Williams sponsored the 2017 Toys for Tots annual toy drive, which provided toys to over 800 children in Carbon County, WY this year.
The ACH Child and Family Service organization in Fort Worth, TX was once again the happy recipient of toys, clothing and baby items donated by our ARC Park Fort Worth employees.
Ohio River Supply Hub employees in West Virginia donated Hoodies and Hams for the Holidays to students at Moundsville and Cameron Middle Schools. Other employees were busy preparing their float and stocking up on candy to share with kids lining the streets at the three local holiday parades.
Collecting much-needed items, knitting scarves and hats for a local senior center and playing some rousing games of Bingo was the focus for a group of Pittsburgh employees, while others participated in the Pittsburgh Airport Area Chamber's Jinglefest raising funds for the 171st "Military Family Support Unit."
Pittsburgh employees also collected, sorted and delivered toys to Santa's Toy Warehouse as part of the annual Toys for Tots drive
Our Utica Supply Hub employees collected items for special holiday care packages for some very special people who are not-so-close-to-home – active duty military members who cannot be home for the holidays.
In north central Oklahoma, Williams employees continued a four-year tradition by hosting a food drive to help those in need in their community. Our Waynoka field office employees gathered food and donations and delivered the supplies to the Waynoka Food Bank. Wherever we operate, Williams employees support our communities and we're proud to salute that volunteer spirit in Waynoka, Oklahoma.
At our headquarters in Tulsa, OK employees hosted both a Toys for Tots drive and a Salvation Army Toy Drive.
Our employees not only work in these communities, but they live and raise their families in these communities, so helping make sure a happy holiday is had by all is very dear to their hearts.
To our readers – We wish you the Happiest of Holidays and a Happy and Prosperous New Year.