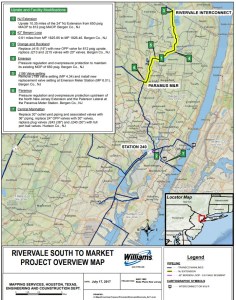 The Federal Energy Regulatory Commission (FERC) recently completed its environmental assessment for Williams' Rivervale South to Market natural gas pipeline project, concluding that the project would not significantly affect the environment.
The Rivervale South to Market project is a 190,000 dekatherms per day expansion of the Transco interstate natural gas pipeline to provide additional service to natural gas consumers in the Northeast — including New Jersey and New York City — in time for the 2019/2020 winter heating season. The company has executed an agreement with Direct Energy Business Marketing and UGI Energy Services for firm transportation service under the project.
The project has been designed to minimize impacts to landowners and the environment by maximizing the utilization of existing pipeline infrastructure. The project will require a new 0.61 mile pipe segment along the existing Transco pipeline in Bergen County, N.J., modifications to four existing pipeline metering facilities in N.J. and N.Y., and an uprate of 10.35 miles of existing pipe in Bergen County, N.J.
Receiving an environmental assessment or environmental impact statement is the final step for pipeline projects before FERC makes a final decision whether to approve the project.
If approved, construction on the project could begin in early 2019.