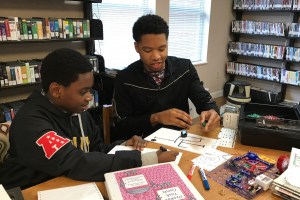 Ruth Fuller, Library Manager at the Whitesburg Public Library in Whitesburg, Ga., recently wrote to Williams to report on how Williams' support has enabled the library to offer a variety of well-received services and popular programs to its patrons.
Fuller writes that in 2017 the library was able to use Williams' support to provide internet service to guests, expand its youth summer reading program, construct a LEGO wall, and invest in a robotics program for local youth.
The library partnership was a byproduct of Williams' Dalton Expansion project, which included the construction of new Williams pipeline facilities near Whitesburg in 2017.
Fuller wrote to express her thanks, highlighting the success of the various Williams-funded programs. For example, she says the LEGO wall has been such a hit, many younger patrons don't want to leave.
"There were times where a mother or dad had to carry out a crying and kicking child to go home. They sobbed because they didn't want to leave the library. What a wonderful noise to hear for this library manager."
Thanks to some of the library's new Williams-funded STEM programs, the local Whitesburg Elementary School was able to earn an advanced STEM certification award in 2017.
"Our 2017 was so exciting thanks to our Williams grant purchases," she says.
Additional support from Williams in 2018 is making it possible for the library to hire a University of Georgia computer science intern to work with library patrons and lead additional future educational activities.