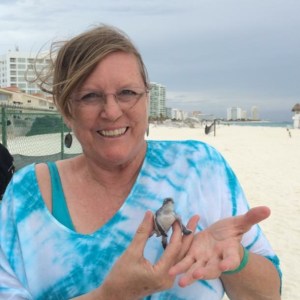 Former role:  IT Manager, Williams Gas Pipeline
Number of years with Williams: 22 years
Number of years retired: Almost 8!
Q: How are you spending time in your retirement?
A: After spending several years assisting elderly parents, I now focus on playing with young ones, our six grandchildren! My husband and I love to travel, and we cruise frequently. I recommend land trips in Iceland, China and anywhere in Europe. There is so much to learn wherever you go.
Q: Are you involved in any community/volunteer activities?
A: At Williams, my focus was with United Way and Junior Achievement. Once I retired, I ventured out-of-doors. I became a Texas Master Naturalist and volunteer at a local nature center. I also now have more time to volunteer with my church, our neighborhood association and of course, our Houston Williams Retiree Club.
Q: What has been your favorite thing about retirement?
A: I love having an open schedule – to get involved, work out when I want, visit with family/friends and be that last-minute babysitter as needed.
Q: Anything you'd like other retirees to know?
A: Have a bucket list. Do what you can, while you still can!