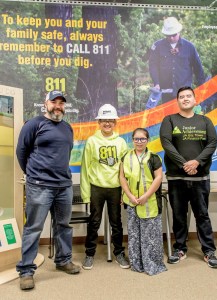 Williams is one of the newest community partners with Junior Achievement of Washington (JA) at its central Washington JA BizTown and JA Finance Park learning center, a "mini city" where students have the opportunity to experience free enterprise and the working world for a day and build personal "real-life" budgets.
Williams joins other corporate sponsors in JA BizTown's "City Hall," taking on the role of the city's natural gas provider. Elementary students assigned to work in the Williams storefront for the day will learn about careers in public service and utilities, meter reading, invoicing & billing, and running the business to achieve a profit at the end of the day. In JA Finance Park, middle and high school students are given a simulated life scenario for the day, including an assigned career path and income, and are tasked with budgeting for the needs of their family.
"We are thrilled to welcome Williams to the JA of Washington family of partners," says JA of Washington's President & CEO, Natalie Vega O'Neil. "Their support supplements program costs, enabling local school districts to offer Junior Achievement's essential financial literacy education to students who may not otherwise have the opportunity to participate."
Junior Achievement of Washington has created JA BizTown and JA Finance Park, financial literacy laboratories in Auburn and Yakima that are reality-based learning environments for elementary, middle and high school students. These campuses offer interactive simulation centers to enhance financial literacy and work readiness among students.
Throughout the country, Williams is committed to helping local schools and preparing the next generation of employees for top jobs with employers in STEM fields and encourages its employees to serve as community volunteers and school STEM mentors.