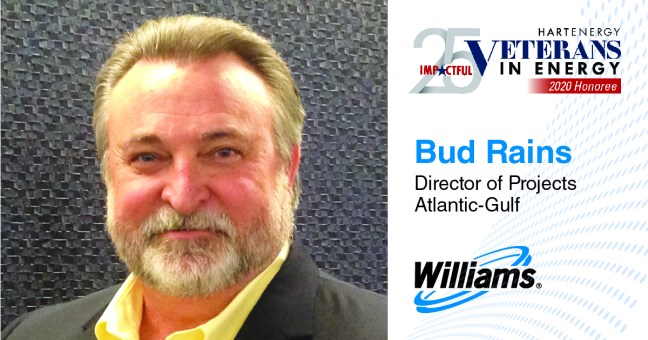 Congratulations to Bud Rains, director projects, Atlantic Gulf, for being named one of Hart Energy's Impactful Veterans in Energy.
This recognition program highlights our industry's longstanding support of military veterans and the contributions these individuals make to the oil and gas business.
"Bud's support of veterans both within and outside of Williams has been exemplary," said Bill Bates, who nominated Bud for the honor. "Bud's can-do attitude in supporting veterans wherever he is located is truly an inspiration and example for all veterans to follow. He has tirelessly and selflessly led teams at Williams to support both the veterans within and those outside of the company at every opportunity available."
Bud, a veteran of the U.S. Marines, has led the Williams Veterans Business Resource Group (BRG) as the Executive Sponsor since its inception eight years ago, guiding veteran recognition and onboarding across the enterprise.
He also was awarded Williams' Randy Barnard Leave the Ladder Down Award in 2015 for his work on the BRG and in support of veterans.
Bud said the Veterans BRG was started to meet the needs of veterans inside of Williams and those outside transitioning to civilian jobs. The Veterans BRG primary focus was the development of a mentoring program, assisting with recruiting at Williams and facilitating fellowship and charity activities with veterans at Williams. He said the technical skills and leadership traits learned in the military are suited to working at Williams.
"We have addressed many issues and assisted many veteran organizations in meeting the needs of our fellow veterans during their times of need," he said.