Q&A with Michele Duke, senior field office administrator
Where is Connellsville?
Connellsville is in southwestern portion of Pennsylvania and located approximately 50 miles southeast of Pittsburgh.
What is Connellsville known for?
Connellsville was known as the "Coke Capital of the World" because of the amount and quality of coke produced from coal in the beehive ovens that can still be seen in a few places around town. Also, in 1755, Major General Edward Braddock and his army crossed the Youghiogheny River in Connellsville. There is a reenactment each year (water levels permitting).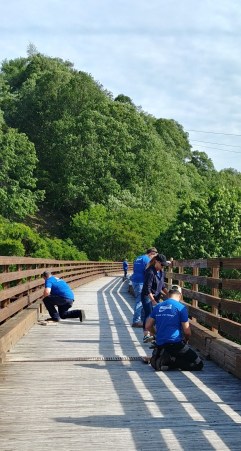 What would visitors to Connellsville enjoy?
There are so many historical places to see within short distances, all right outside of Connellsville, as well as state parks. However, in Connellsville, we have a few historical sites and the Yough River Trail. This walking/bike trail starts in Pittsburgh and runs through Connellsville and goes on to Washington, D.C. This stretch is also known as the Great Allegheny Passage. Lastly, if you happen to be in Connellsville on January 1, you could participate in the Polar Plunge. Folks take a quick swim in the Youghiogheny River regardless of weather or water temperature.
How are Williams employees active in the community?
A big part of our activity in the community is the work completed annually on the United Way Day of Caring. We are committed to staining one bridge every year on the Yough River Trail; there are now three. Today, employees are participating in Adopt-A-Highway by cleaning up trash along a specified stretch of highway.
Over the past few years, we have really cleaned up our local playgrounds and ball parks in many ways. We also were able to assist flood victims in 2016. Employees shoveled mud out of homes, helped move debris, and drove through neighborhoods to hand out water, food and necessities.
Why is Connellsville a good place to live and work?
The location of Connellsville lets you get to the surrounding major cities rather quickly, while living in a somewhat rural area with wildlife, beautiful foliage and mountains.