Q&A with Tina Vanderpol, field office administrator
Where is Sumas?
Sumas is a border town to Canada. The border crossing is currently closed due to COVID and we are unsure when it'll open. The town has sure been quiet without our friendly neighbors to the north.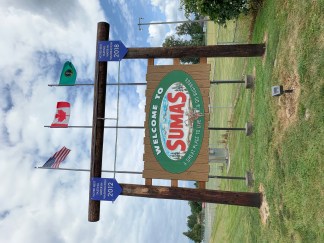 What is Sumas known for?
Sumas is known for being a small, close-knit town. We have a growing economy, as well as a strong industrial and agricultural base. We have corn and blueberries filling hundreds of acres around us. And of course, the best tasting water! Sumas placed fifth in the nation in the Great American Water Taste Test.
What would visitors to Sumas enjoy?
If someone were to visit, they would likely stop by our newest addition, the Sumas Splash Park. During the winter months, Mt. Baker is just a short 30-minute trip up the mountain. The last few years have had record-breaking snowpack.
How are Williams employees active in the community?
Williams' employees contribute their time on United Way Day of Caring every year, as well as the Sumas Fishing Derby, Sumas Community Days and Car Show.
Why is Sumas a good place to live and work?

People are choosing to flock to Sumas lately due to affordable housing prices, and people also love the small-town feel we provide. I have lived in Sumas for 12 years now. There is no greater beauty than the hillside right in your backyard, with Mt. Baker peeking over the top.