Roderick Guillory was a new operations technician at Williams when Hurricane Rita destroyed his home in 2005. It was only a month after he had helped clean up debris from Hurricane Katrina.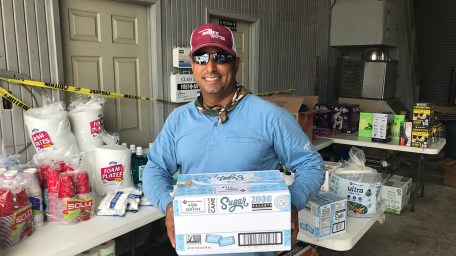 Now he was the one who needed help.
"We had evacuated with only the clothes we had on our back," he said. "We lost everything we had."
He said Williams quickly responded, with temporary shelter, clothing, food and other supplies.
"They gathered us all up to start the clean-up and rebuild process," he said.

And that is exactly what Guillory is doing this week to help co-workers in southwest Louisiana after the ravages of Hurricane Laura.
He and other employees from several states are manning a staging area in Ragley to hand out critical supplies to affected employees and their family.
As a supply chain manager now based in Houston, Guillory knew from his own experience what items would be most helpful. Food, water, fuel and generators for sure. But also, insect repellent because the ants and wasps swarm when their underground homes are flooded.
He's also giving advice to others going through what he endured 15 years ago, and to his fellow volunteers.
"I thank them every day. I've witnessed the goodness of Williams. In times of challenge or when people come together, we become human again. We are blessed to really care about each other."