Icy roads, drifting snow and near white-out conditions. Driving safely in winter weather can be a challenge for even the most experienced drivers.
Jack Ellis, a Williams employee in Durango, Colorado, says getting to work and home safely each day is top priority for his colleagues and him.
On a clear day, Ellis has a 45-minute commute. But that can change quickly this time of year.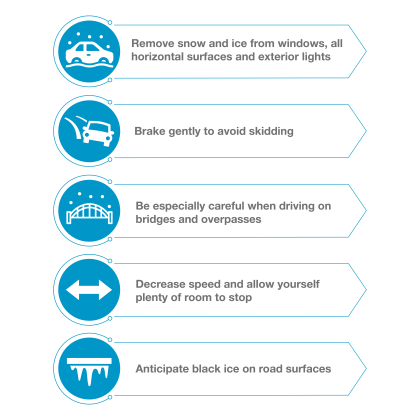 "The mountains are already getting snow," he said. "Awareness is key and starts well before I get in the truck."

Ellis, a senior operations technician, uses weather apps to track changing conditions for the week ahead.
He makes sure his tires have good tread, his windshield wipers are working properly and that he allows plenty of time to get to his destination.
"If your schedule allows, give it a little time for the sun to come up and the snowplows to get out," he said.
Ellis says he also lets a co-worker know where he's going and when he expects to be there. In case he gets stuck in a remote area, he's got a first-aid kit, snacks, water, a shovel and tow ropes.
He also has years of defensive driver training required of all Williams employees.
"We travel in some really bad conditions and our training really kicks in," Ellis said.
According to the National Highway Traffic Safety Administration (NHTSA), 17 percent of all vehicle crashes occur during winter conditions.
Here are a few more tips from NHTSA:
Before starting your trip, remove snow and ice from your vehicle windows, all horizontal surfaces, headlights, brake lights and turn signals.
Decrease speed and allow yourself plenty of room to stop. Brake gently to avoid skidding.
Be especially careful on bridges, overpasses and infrequently traveled roads.
Anticipate 'black ice' on road surfaces.
When following other vehicles, leave even more following distance if the other vehicle's snow or ice has not been removed. Beware of vehicles in other lanes – slabs can easily fly across lanes and even across medians, striking other vehicles.
Keeping your eyes on the road and without distractions is the best defense, Ellis says. Mother nature, and other drivers, are unpredictable.