Williams honors the many employees who give of their time and talent by volunteering in their communities.
Last year, during the pandemic, 400 employees logged more than 18,000 volunteer hours of service. The previous year, those numbers were double.
Here are just a few of the many employees making a difference.
Brian Horton, financial analyst consultant, Tulsa, Oklahoma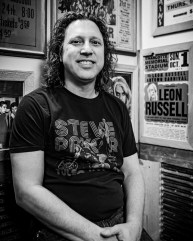 Where do you volunteer?
I am the founder and President of Horton Records. We are a non-profit music organization that provides resources to Tulsa-area musicians for recording, distribution, booking, promotion, management and administration, while working to capture and preserve the rich musical heritage of this region. I am on the board of directors for American Song Archives, which is the umbrella for the Bob Dylan Center and Woody Guthrie Center. And I am a former board member and volunteer for Red Dirt Relief Fund, a non-profit organization that provides a safety net of critical assistance for Oklahoma musicians and gig workers in critical times of need.
Why is volunteering important to you?
I believe that anyone can have a positive impact in the community in which they live and work. For me, I think volunteering and getting involved in the community is a way that I can help improve my own backyard. It's real. It's tangible. I can see the results. I tell people that if you don't like something or you think it could be better, don't talk about it or complain about, get involved and change it.
How does Williams support your volunteerism?
Williams support of volunteerism and charitable giving is probably the one thing that I am most proud of as an employee. Volunteerism has been an important part of the Williams culture for decades, and it still is today. The encouragement and resources provided by the company empowers employees to have a positive impact in their communities in a tangible way.
---
Cindy Williams, field office administrator, Converse, Louisiana
Where do you volunteer?
I am on the board for the DeSoto Arts Council and the DeSoto Parish Chamber of Commerce. I'm also a member of the DeSoto Regional Health System, which raises funds to help support our rural community's health center. Also, through our annual charitable contribution budget for the Haynesville operating area, we supply grants to 12 emergency responding agencies that support our operating areas in Caddo, DeSoto and Rapides parishes. I have maintained a relationship with these agencies for years to better understand the needs of the agencies throughout the year.
How does Williams support your volunteerism?
We can all be proud of the community support that Williams gives here every year including matching employee's gifts, the United Way backpack program and many other annual contributions. Williams makes it easy for its employees to be a vital part of their community by providing many avenues for us to volunteer and give.
---
Missie Hills, staff engineer, Houston, Texas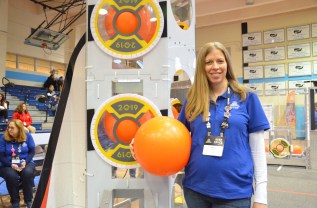 Where do you volunteer?
I volunteer for FIRST Robotics. The mission of FIRST is to inspire young people to be science and technology leaders and innovators, by engaging them in exciting mentor-based programs that build science, engineering and technology skills.
I have been volunteering as a judge here in Houston for the last five years. I interview students about the process they used to design and build their robot for the games. Each year I'm blown away! These students are not only incredibly smart, they are also caring, great collaborators, excellent entrepreneurs and demonstrate so much gracious professionalism.
Why is volunteering important to you?
I want to show students in STEM what it looks like to be a leader in a STEM industry. Just by being there, students immediately see that an engineer can look many different ways. I love when they ask me questions about what I do and I get to tell them that I work with robots that we put in our pipelines to inspect the integrity and keep our communities safe. Their eyes light up and suddenly they see that this hobby they enjoy can be so much more.
This last year, the actual games were canceled. This was devasting to many students. FIRST provides many scholarships to senior students, so there was fear that those scholarships wouldn't be possible. Thankfully, I was able to still volunteer with one other judge. We interviewed each senior student virtually and helped FIRST select students for scholarships. We heard some great stories of how the students were still engaging with their teams. Many were even using their equipment to 3D print face shields for their community! It was very rewarding to be able to continue to support this organization even through very difficult times.
---
Clay Gustaves, land rep, Seattle, Washington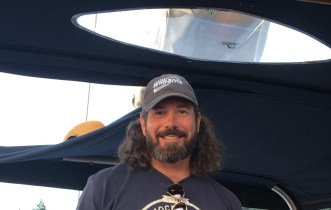 Where do you volunteer?
I volunteer for and am on the board of trustees of The Center for Wooden Boats and Book-It Repertory Theater. Book-It Repertory Theatre is a nonprofit organization dedicated to transforming great literature into great theatre, through simple and sensitive production, and to inspiring its audiences to read. The Center for Wooden Boats promotes northwest maritime heritage through education, interpretation and hands-on experience. I volunteer as a sailing instructor, taking visitors out for free boat rides on Sundays, help with events and fundraising and other odds and ends. In 2020 I was honored to receive their volunteer of the year award.
Why is volunteering important to you?
It helps me feel connected with the city of Seattle and the organizations that add such value to its citizens. Williams homegrown giving and matching gift programs are a wonderful and democratic way for the company to support the causes its employees are passionate about. I think Williams feels the passion I do about these organizations, especially by funding them during these difficult times.
---
Perrin Boone, manager commercial development, Pittsburgh, Pennsylvania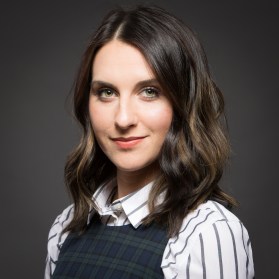 Where do you volunteer?
I volunteer at a number of organizations, including Light of Life, which provides food, shelter and hope to persons experiencing homelessness, poverty or addiction; and the You Are Covered Project, which helps families struggling to feed themselves or their children.
I also volunteer with the East End Cooperative Ministry, Junior League of Pittsburgh and the A21 Campaign, which works to combat human trafficking.
Why is volunteering important to you?
This is a question that can be hard to put into words since there is an emotional tie wrapped up in it. To start, I think it is easy for people to dwell on the negatives that are going on in their lives. It's normal since we are human. If we can step outside of that and give back and create relationships with people who need a hand, we are able to feel the beauty in helping others and I think that overpowers a lot of the negatives that can consume us.
How has Williams supported your volunteerism?
On top of the organizations that I choose to volunteer with in my free time, Williams has provided a company-supported volunteer platform with United Way. I love that Williams focuses time and money towards making a difference in our communities because it shows me that they truly care.
---
Diane Lantz, scheduler/planner, Wysox, Pennsylvania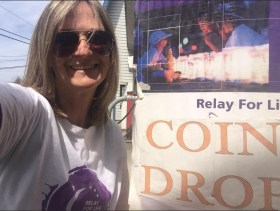 Where do you volunteer?
I volunteer for the American Cancer Society Relay For Life event in Bradford County, Pennsylvania. My son and I are members on the Angels Among Us team and the Luminarias team. We volunteer each spring before the event in a "coin drop," collecting donations from citizens willing to donate their spare change to the American Cancer Society. This event is important to me on a personal level, having lost close relatives and friends to this horrible disease, the closest to my heart being my father 18 years ago, but also to honor and celebrate those close to me who have beat it and are surviving.
I also have volunteered for Towanda Music Boosters for two years, since my son entered the music program at Towanda Junior-Senior High School as a member of the marching band, jazz band and county band.
Why is volunteering important to you?
Volunteering for the American Cancer Society Relay for Life event is important to me because it helps raise awareness to those who may be struggling with the complications of cancer. It's also important to me because I enjoy celebrating the lives of those who didn't win the fight, keeping their memories alive and also celebrating those fighting and winning!
Helping with the Towanda Music Boosters is important because sadly, it's hard to get volunteers for this club and other school clubs. I really enjoy seeing how happy the students are and how much fun they have as a group.
How does Williams support your volunteerism?
I am so proud to work for Williams because of how they support my volunteerism by giving grants and sponsorships to the nonprofits and just by letting me take the time to volunteer in these programs. The people in the small communities I volunteer in recognize Williams as a stand-up company with employees who go above and beyond to help those in need.
---
Involvement in the communities where we operate is at the heart of Williams. We believe in giving generously of …