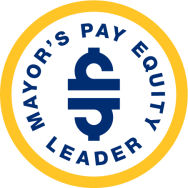 We're proud to join other Tulsa-based companies by signing the Tulsa Mayor's Pay Equity Pledge, created in partnership with the Mayor's Commission on the Status of Women in 2021.
"We're happy to lead by example and put our name behind doing the right thing," says Debbie Cowan, senior vice president and chief human resources officer, Williams. "Supporting efforts that help draw and retain top talent is important to us in our hometown of Tulsa and across the country."
The steps outlined in the pledge are already incorporated into Williams' practices, not just in Tulsa but in all locations across the nation.
"It was easy to sign the pledge because we already have these equitable best practices in place," Debbie continues. "We believe it's the right way to run our business and treat our employees."
For more than ten years, our HR and legal departments have partnered to conduct annual pay equity analyses to promote the company's equal employment opportunity policy. Similarly, a couple years ago, salary history questions were removed from the application process. Williams also promotes, and in some cases requires, training programs that focus on removing biases, promoting inclusive hiring practices, and strengthening an inclusive and welcoming work culture.
Visit the City of Tulsa website to more about the Mayor's Pay Equity efforts and to view the pledge .