Employee Katy Rich was among a team of endurance athletes who cycled thousands of miles from Oceanside, California, to Annapolis, Maryland, to raise money for suicide prevention and mental health awareness.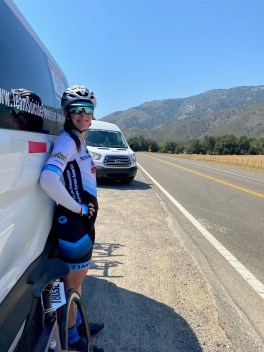 Rich and her Tulsa-based teammates last month relayed day and night, through deserts, mountains and prairie, with bouts of rain, wind and extreme heat.
It took seven days, 19 hours and 34 minutes to travel 3,037 miles. But the biggest milestones were the people she met along the way, Rich said.
"Along the way, we had strangers walk up to us and want to thank us and talk to us about their own experiences with suicide," said Rich, director of GIS. "It was really grounding because it kept that cause at the forefront of our journey."
Rich's group, Team Suicide Prevention, competed the Race Across America while raising more than $50,000 – including a grant from Williams — for several suicide prevention nonprofits. Many teammates had lost loved ones to suicide or experienced mental health challenges. Katy rode in memory of a college friend.
With only a few hours sleep each night, the trip was a test of endurance. Staying hydrated and meeting nutritional needs was key.
Rich estimates she rode nearly 400 miles herself, a feat she achieved by training for nine months in advance.
"I wasn't totally wiped out at the end," she said. "It was excitement and elation, but I could have kept riding."