A donation of computers to a Houston school will enable students to prepare for college and continue work-study programs remotely.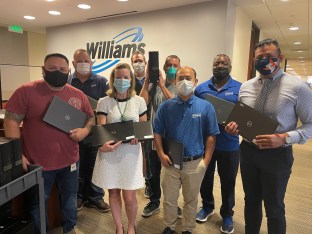 Williams provided 75 laptops and 30 desktop computers to Cristo Rey Jesuit College Preparatory, a high school for economically-challenged students.
Sequent Energy Management, a Williams company, has partnered with the school for many years.
"Since our inception 13 years ago, every one of our graduates has been accepted into colleges all over the country, and it is the support we get from companies like Williams that helps make it happen," said school president Paul Beck.
"We believe education is the best way to bridge the gap of poverty, and technology is the fastest and most efficient way to provide the education they need in today's ever-changing world," he said. "Thank you Williams for helping to change lives."
The computers will be used in college readiness classes and in the school's new work-study lab, for students to continue working with companies that have gone to remote work during the pandemic.
"We were so pleased to provide this donation of quality surplus equipment that will help these students succeed and prepare for future careers," said Tom Wedding, supervisor of Infrastructure for Williams.