As a young teen, Pablo Lugo liked to take his electronics apart and rebuild them for other uses. A remote for a toy car became a switch to turn his bedroom light off and on and practice Morse code.
As an engineer II for Williams' pipeline safety and asset integrity group, Lugo is still building things but at a more complex level. He uses structured query language (sql) to take apart and piece together millions of lines of data to keep our pipelines safe.
Lugo says his job is to maintain, improve and run the company's computational quantitative risk model.
But what does that mean?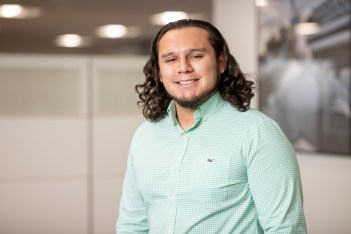 "In a nutshell, we help our Asset Integrity and Operations teams prioritize in-line inspections and determine which preventative and mitigative measures would be most effective," he said. "We look at all the parameters of pipeline integrity, including physical properties of the pipe, surrounding environment, soil type and other data so we can perform maintenance as necessary."
It's a big job because Williams operates more than 30,000 miles of pipeline systems to deliver the energy that the United States depends on for heating, cooking and electricity.
While all pipelines are thoroughly tested and inspected to rigorous standards when installed, they also are maintained with Integrity Management Plans that provide a structured approach for the continual evaluation of risks and threats.
Lugo, who has a mechanical engineering degree from Carnegie Mellon, joined Williams three years ago.
A Tulsa native, he was excited to grow his career in our headquarters city. As the first in his family to complete college, he's thankful that Williams is involved in the community and supports STEM education and organizations like the Hispanic American Foundation of Tulsa, for which he serves on the board of trustees.
The foundation is dedicated to the preservation, appreciation and promotion of Hispanic culture through scholarships, grants and the presentation of cultural programs.
"As a scholarship recipient myself, I know the importance and motivation that receiving a scholarship can have," he said. "I enjoy working with passionate, like-minded individuals, all working hard towards being able to grow the number of scholarships we can award each year."
Lugo tells students he mentors that education, and eagerness to learn new things, are key to success in any field.
"Being challenged keeps you stimulated," he said. "It's like the saying goes, if you love what you do, you never work a day in your life."