Keeping our natural gas in the pipeline is of upmost importance for safety, reliability and environmental concerns.
One way we are doing that is through a process called recompression.
When we need to take a miles-long section of pipeline out of service for planned maintenance or repair, instead of venting (also called a blowdown) or flaring the gas, in certain situations, we employ a mobile recompression unit that uses flexible hosing to transfer the gas to an adjacent pipeline or across a block valve to send it safely down the line.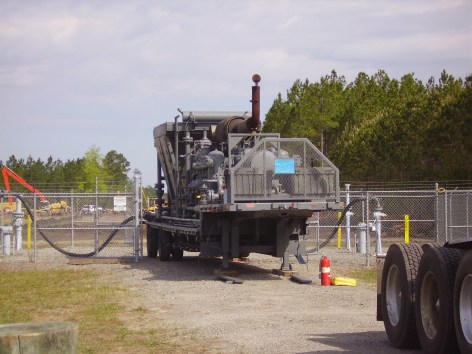 "Recompression is a great way for us to reduce methane emissions in our day-to-day operations," said Glenn Koch, VP of Project Execution for Transmission.
Last year, Williams incorporated an operating procedure to reduce transmission pipeline blowdown emissions in our Transmission & Gulf of Mexico operating area. The procedure establishes a standard for reducing greenhouse gas emissions from large transmission pipeline blowdowns, identified by the volume of natural gas vented directly to the atmosphere. We successfully implement pressure draw down and recompression measures to lower gas line pressure before pipeline maintenance, to reduce methane emissions and make more natural gas available for sale.
We reduced our pipeline blowdown greenhouse gas emissions by 84 percent by using recompression technology and have saved more than 1.6 billion cubic feet of gas, the equivalent of heating more than 38,164 homes for a year.
We've had a lot of success in our work to reduce emissions and maintain pipeline integrity. To read more, check out our 2021 Sustainability Report.