Keeping our natural gas in the pipeline is of upmost importance for safety, reliability and environmental concerns.
One way we are doing that is through a process called recompression.
When we need to take a miles-long section of pipeline out of service for planned maintenance or repair, instead of venting (also called a blowdown) or flaring the gas, in certain situations, we employ a mobile recompression unit that uses flexible hosing to transfer the gas to an adjacent pipeline or across a block valve to send it safely down the line.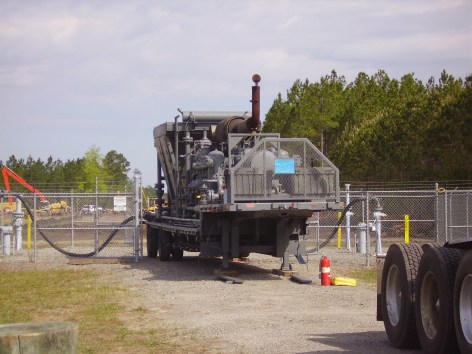 "Recompression is a great way for us to reduce methane emissions in our day-to-day operations," said Glenn Koch, VP of Project Execution for Transmission.
In 2020, Williams reported 57 separate occasions along our Transco and Northwest Pipelines where natural gas was recompressed instead of being vented. This accounted for 1.5 billion cubic feet of gas saved in 2020 – the equivalent of heating more than 37,000 homes for a year.
Williams is in the process of implementing a blowdown emissions reduction standard for transmission pipeline assets, requiring recompression or other reduction measures to be evaluated for all planned blowdowns.
We apply the same management practice to our smaller pipelines in gathering. In one instance, a Williams employee identified a leaking valve at a compressor station in New York that needed to be replaced. Replacing the valve using traditional methods would have resulted in a planned release of natural gas.
Our operations and engineering teams put a plan into action to utilize the station's compressor to draw down, or decrease pipeline pressure and gas volume, to significantly reduce the release of natural gas while keeping all safety systems intact.
A total of 1.3 million standard cubic feet of gas was recompressed downstream of the station that would have otherwise been vented to the atmosphere.
We've had a lot of success in our work to reduce emissions and maintain pipeline integrity. To read more, check out our 2020 Sustainability Report.