Peter Baez's career has been all about protecting country, community and company.
With a degree in emergency management, the former U.S. Marine transitioned to civilian life as an operations technician for Williams.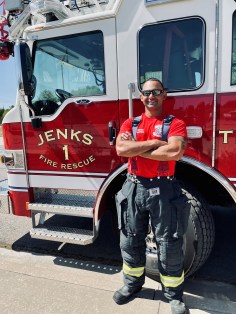 Today, he's working in security operations at Williams' Tulsa headquarters and part of his job is helping develop and lead emergency response drills with firefighters across the country. He's also a volunteer firefighter for the suburb of Jenks, Oklahoma.
The emergency responder drills are critical to ensuring that Williams' assets, people and surrounding communities are safe.
A recent drill in Comer, Georgia, brought together 60 participants to test response to a pretend scenario of a vehicle hitting a gas meter station. The exercise was a great way to help our employees and community partners improve incident readiness skills.
"The drills aim to strengthen our relationship and understanding with responders," Baez said. "Having been a firefighter helps me be that bridge. I understand how first responders operate and what kind of objectives they want to achieve."
As a volunteer firefighter, Baez may respond to car accidents, medical calls and the occasional structure or vehicle fire. Jenks is the second fire department for which he's volunteered.
Jenks also employs full-time firefighters but the volunteers are essential to staffing the firehouse when they are called out, Baez said.
"I enjoy being a firefighter because I get to serve the community that I live in," he said. "Also, as a volunteer, I do feel like I'm also serving my fire station."
Baez said he was excited to join Williams and contribute to the company's safety reputation and record.
Baez is one of dozens of Williams employees who volunteer as firefighters around the country. Williams salutes them for their hard work keeping our communities safe.