Across the United States, 143 Native American tribes live near our operations. We're continually building our relationships with the sovereign nations as we aspire to be strong community partners.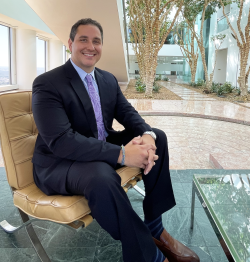 "Supporting Native American organizations is a way we show appreciation and respect to the communities in which we work," said David Spring, a Williams employee who serves as treasurer on the board of the Indian Health Care Resource Center of Tulsa.
Spring, a member of the Choctaw Nation, said Williams' charitable support of the Indian Health Care Resource Center has enhanced its ability to provide comprehensive health care and eliminate health disparities.
For several years, Williams has sponsored the center's Native American Youth Summit and Dance of the Two Moons fundraising event, for which Williams was awarded the Circle of Life Community Partner Award earlier this year.
Spring said that support helped the center reopen after a temporary closure during the COVID pandemic, and in addition to providing regular services, begin to administer vaccines to thousands of Oklahomans, even those without tribal memberships.
Mikeale Campbell, manager, Diversity & Inclusion, said Williams strives to be strong community partners and build trust and relationships with sovereign nations.
And that includes Williams employees, who represent many native groups. A Native employee resource group (ERG) is forming for employees to network, share information and advise on ways to promote inclusion in our workforce.
Employee Kelly Thompson, an Alaska native and Inupiaq, said workplaces that celebrate diversity and champion inclusion are critical to understanding and supporting employees and the communities in which they live and work.
Thompson said he was mentored as a college student and officer of the American Indian Science and Engineering Society. That encouragement was a defining experience in finding an academic community and later success as an engineer.
"I want to be like my mentor," he said, "and make the Native ERG a force for positive influence in the lives of Native people.
Thompson said recognizing Native American Heritage Month is one way Williams pays tribute to the rich ancestry and traditions of native people.