When students attend the Urban Assembly New York Harbor School on Governors Island they learn by doing.
The Harbor School is a college preparatory high school where students in New York City get exposure to the maritime field through seven different career and technical education programs.
As freshmen, they explore aquaculture, ocean engineering, marine system technology, marine biology research, marine policy and advocacy, vessel operations and professional scuba diving before deciding on their focus area.
Naomi Rosa, a senior at New York Harbor School, said she chose the school because she wanted a hands-on program and because she loves the water.
"I decided to go to New York Harbor School because I feel like it's something out of the ordinary," Rosa said.
As part of the school career and technical education program, some students graduate high school with professional certifications in some fields including scuba diving and vessel operations.
Jeffrey Chetirko, principal of the Urban Assembly New York Harbor School, said teachers and students use the New York Harbor as a classroom which gives students real-world experiences while they are still in school.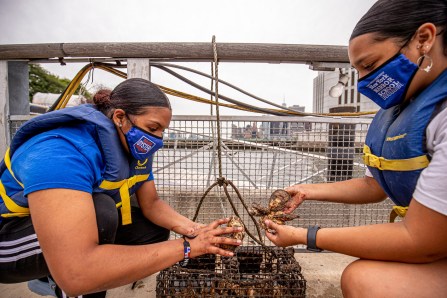 "They're not playing pretend, they are actually solving real-world problems and they do that together," Chetirko said.
Those experiences include learning to drive boats, maintain scuba equipment, hydroponic farming and marine biology field testing.
Students also work with the Billion Oyster Project which aims to put a billion oysters in the water to restore the harbor.
"Every oyster can filter 50 gallons of water a day. So, if we plant a billion oysters into the New York Harbor area, we'll be able to filter the harbor every three to four days, which is needed because the sewage system in Brooklyn and Manhattan feed into the New York Harbor," Chetirko said.
Since the school began in 2003, alumni now work for many of the businesses and organizations in and around the harbor.
"Ninety percent of all cargo comes in via the water, and many of our students choose to enter the marine field, so they'll go into transportation, shipping, passenger vessels, or on the science side," said Aaron Singh, the vessel operations teacher and waterfront director at the New York Harbor School.
Rosa is one of Singh's students and said she plans to continue her maritime education in college and eventually earn her boat captain's license. She credits the Harbor School with introducing her to maritime careers and inspiring her to pursue a college degree.
Williams supported the school's career and technical education program with a grant earlier this year.
Chetirko said support from community partners like Williams is important to the school because the program's needs exceed the support they receive from city and state resources.
Supporting New York City is nothing new for Williams.
Williams provides more than 50% of the natural gas New Yorkers use each day and has served as a community partner for New York City for more than 60 years, said Andrew Conlin, a director on Williams government affairs team.
"We're really excited to be a partner here in New York City and to be invested in the communities that we serve," Conlin said. "Supporting the incredible work at the New York Harbor school is important for its students and the community."
Learn more about the New York Harbor School and the Billion Oyster Project here.