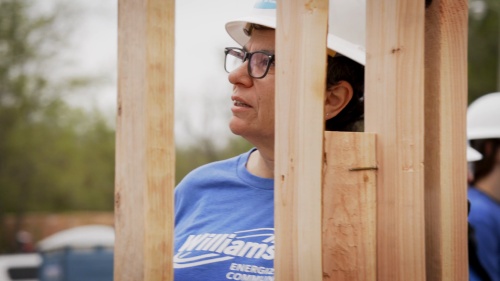 The Russell family eagerly anticipated move-in day.
They'd watched and helped with construction of their new blue-trimmed brick home in North Tulsa.
Recently, the home was Green Country Habitat for Humanity's 500th home to be dedicated since the organization's founding in 1988.
"It's wonderful. It's a feeling we've never had before," said the matriarch of the Russell family after they received their house keys. "Every week we'd stop by the house and watch the progression of it, which was really exciting."
Williams employees were among construction volunteers to make the family's dream come true. Five other homes were constructed as part of a building blitz in Tulsa this year.
"We are so excited for these families," said Chad Teply, a member of the nonprofit's board of directors and senior vice-president of project execution for Williams. "You think about how that positions these communities, these neighborhoods, for success going forward. It's just tremendous. We're really proud to be just a small part of what Habitat for Humanity does here."
Building equity and property wealth is one of the fastest ways to shift the trajectory of a family's long-term financial future, said Green Country Habitat for Humanity president and CEO Cameron Walker.
"And that's something that not only impacts the family today," he said. "We're thinking about the next generation and the generation to come after that," he said.
Volunteering and community support is simply part of the culture at Williams, said Lane Wilson, senior vice president and general counsel for Williams, and one of the construction volunteers.
"We have a real purpose and meaning in what we do for Williams and the role the company plays in making people's lives better," said Wilson, who recently served on the nonprofit's board. "Serving our communities through organizations like Habitat gives us a purpose and meaning even beyond that."