Ring in the New Year with these family favorite recipes from Williams employees. They can all be made using natural gas appliances.
By Adriana Prieto, Measurement Business Analyst II
No Prieto family holiday feast is complete without several loaves of Pan de Jamón. My favorite version is with the more traditional ingredients, but we also like to have fun and experiment with different ingredients from time to time. The beauty of this bread is that it is intended to help you use up ingredients you already have during the holiday season, so feel free to experiment.
Gustavo Ramella's Bakery in Caracas, Venezuela, is believed to have invented this bread in 1905 as a way to get rid of extra holiday ham by wrapping it up in warm, fluffy bread. While the original bread was made only with ham, other local bakeries began to make the bread but added their twist by including other ingredients. As it grew in popularity, the most popular variety was a stuffed bread that had a delicious combination of ham with olives and raisins. By 1920, nuts, olives and capers were added in many versions.
---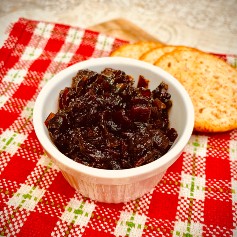 By Kelly Cook, Communications Specialist III
Sweet, savory bacon onion jam is the ultimate comfort food. This recipe is from my boyfriend, Erin, a fantastic cook who enjoys making all kinds of delicious food. Bacon onion jam is one of our all-time favorites. It's yummy on burgers, grilled cheese and even pizza; add some goat cheese, figs, arugula and balsamic reduction and you're in for a treat! We've also made brie topped with bacon onion jam and baked in puff pastry. And it's great to simply spread on crackers or crostini. It's hard to go wrong!
---
By Tram Nguyen, Manager of Accounting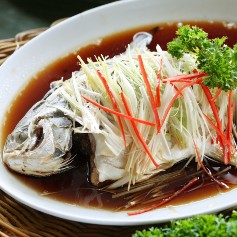 Lunar New Year is right around the corner and many dishes are traditional and cherished in my family.
This healthy dish for steamed fish in sauce brings good luck! Keep the head and tail intact, as that represents a good beginning and a good end for the new year. Side dishes could include fried spring rolls to invite wealth into your life, noodle dishes with uncut noodles to bring long life, and mandarins, which are festive and symbolize prosperity and success.
---
Mulled Wine with Mocktail Option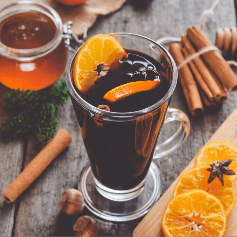 By Susan Simpson, Sr. Communications Specialist
There's not much cozier that watching the ball drop on New Year's Eve from my living room with a fire in the fireplace and a warm cup of mulled wine. This year, I'm making a mocktail version that everyone can enjoy without guilt.
The best part, whether you make this on the stove or in a slow cooker, is that the warm spices fill up your home and aromatically ease you into the New Year.