Diversity & Inclusion program manager Mikeale Campbell says his passion for learning, teaching and affecting outcomes guides his work at Williams and in the community, and he sees change as an opportunity for growth.
Campbell joined Williams two years ago after leading D&I efforts in Tulsa, Oklahoma, for Teach for America, where he also served in Texas as a classroom teacher. Working with students and educators instilled his drive to help others succeed by embracing differences and unique contributions.
"Teach for America was a spark for me because at its foundation there is power in the belief that all kids have potential. All students can learn if given the right resources, and that extends to adults," he said.
Campbell, a Tulsa native and graduate of the University of Tulsa, said education, family and mentors helped him rise from childhood poverty to a leader in his career and community. He enjoys working with Williams employees across the enterprise, from senior leaders to new hires.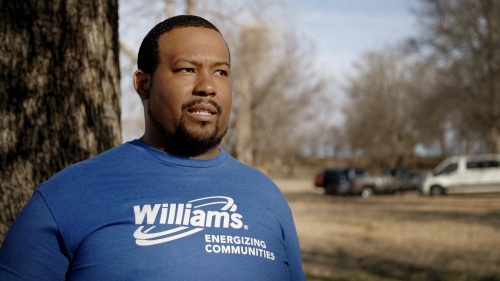 "Williams is a place I can make an impact and it fills my cup when I hear an employee say something has made a personal difference for them," he said. "When I began working for Williams, I quickly learned that we have a good culture of really nice people. But it can be hard for people to know how to approach hard conversations. I can help guide those sometimes-harder conversation so together we can achieve the changes needed to continue our D&I journey and improve inclusion for everyone."
He said that is done in part by teaching inclusion as a fundamental skill for all employees, and driving diversity in hiring, promotion and retention across the employee base.
"For us, diversity and inclusion is pretty simple," he said. "It's creating conditions for people to be able to be themselves, a real focus on how we widen the gate of what we've traditionally done to make sure we're not missing out on high quality talent that may not just come through our doors."
Employee Resource Groups also are key to creating space for employees to network and celebrate what makes people different, he said.
The Black ERG recently organized employee participation in Martin Luther King Jr. Day parades in Tulsa and Houston. Additionally, the group invited the leader of the University of South Carolina's Center for Civil History and Research to speak to employees during Black History Month.
"When you give employees the space and the resources to build community – to grow and push themselves – the organization benefits from them just as much as the individual."
Campbell also enjoys being involved in the Tulsa community, serving on several boards, including for Tulsa Legacy Charter Schools and Pathways Adult Center, and as Tulsa Regional Chamber's 2023 Inclusion Chair.