The snorts, grunts, huffs and chuffs of bison roaming the Joseph H. Williams Tallgrass Prairie Preserve are music to the ears of wildlife conservationists celebrating 30 years of success reintroducing the great beasts to the Oklahoma prairie.
"The preserve has a unique soundscape," said historian and author James Ronda. "I've heard the wind rustle in the tall grass. I've heard the whir and whish of the prairie chicken and yes, I've heard the snap, crackle and pop of a controlled burn. But for me the real voice is the bellow, the grunt, the snort, the head butting. That's the song of the bison. It's made the prairie alive and full and complete."
Ronda was among speakers at a recent event at the preserve marking the bison program's success.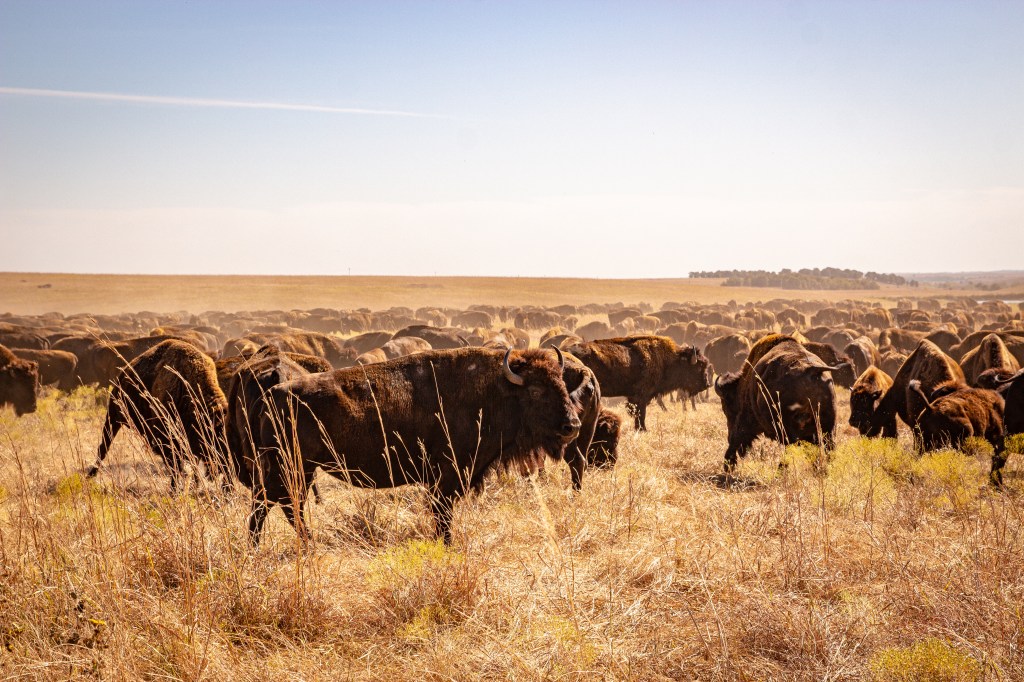 The Joseph H. Williams Tallgrass Prairie Preserve at 39,650 acres is the largest protected piece of tallgrass prairie left on earth. Once spanning across 14 states from Canada to Texas, it's now less than 4% of its original size.
Since 1989, The Nature Conservancy of Oklahoma has worked to restore the Tallgrass Prairie ecosystem with the use of 1,800 free-ranging bison – the first of which were reintroduced in 1993 — and a "patch-burn" model approach to prescribed burning.
The prairie is named after former Williams CEO Joseph H. Williams. In the late 1980s, Joe – along with a handful of other influential Oklahoma business leaders – recognized a natural treasure next door to Tulsa that needed to be safeguarded.
Joe marshaled efforts to purchase the 29,000-acre Barnard Ranch, allowing the fledgling Oklahoma chapter of The Nature Conservancy to create its flagship sanctuary, the Tallgrass Prairie Preserve. Over 700 plants, 300 birds and 80 mammals now make this prairie home.
"It took someone with a lot of standing within the community, a lot of standing within the conservation community and an iron will to make this happen," said Harvey Payne, an Oklahoma lawyer who worked closely with Joe to champion the creation of the prairie and was the first preserve director.
"We would not be celebrating the return of the bison if not for Joe Williams and his strong guiding principles," he said.
Joe Williams' son Jamie said his father had an incredible reverence for nature and was passionate about bringing people together to get big things done. His father "often talked about what a moment that was when the gates opened, and the bison thundered across the prairie."
Watch this video by The Nature Conservancy about the enduring legacy of Joe Williams.