Why This Matters to Williams
To enhance competitiveness and harness our infrastructure to support a more sustainable energy future, we must ensure we are tapping and engaging the brightest and broadest talent pool that also reflects the diversity of the communities in which we work. We believe that attracting an employee base with a diversity of thought, experiences, skills and identities drives innovation and collaboration, fuels employee engagement and enhances our ability to solve unique problems. In alignment with our Core Values, our employees, community members and other stakeholders deserve to be treated with fairness, mutual respect, honesty and transparency. Furthermore, Williams must also be transparent regarding our D&I approach to meeting employee and external stakeholder expectations for employer conduct.
Programs & Initiatives
Williams' commitment to D&I begins at the top of our company with our CEO. His pledge of support for the CEO Action for Diversity and Inclusion Coalition outlines a specific set of actions that he will take to cultivate a trusting environment in which our employees feel comfortable and empowered to have conversations about D&I. These actions include implementing and encouraging ongoing dialogue and sharing strategic inclusion and diversity plans with our board of directors.
Our Senior Vice President and Chief Human Resources Officer (CHRO) is responsible for executing D&I efforts at Williams, reporting on D&I efforts directly to our CEO regularly and board annually. In 2022, our CEO and CHRO sat on our Diversity & Inclusion Council, which guides our company-wide diversity and inclusion opportunities. In 2022, the council was chaired by Williams CEO, included our CHRO and all other executive officers who report to our CEO, organizational and operational leaders from across the business and individual employees from diverse geographic regions and backgrounds. Members are selected based on role or through a self-nomination process, and membership terms alternate to ensure continuity while encouraging new, diverse perspectives. The council works to create a comprehensive view of our current workforce and develops internal metrics to help identify gaps, track progress and prioritize improvements in hiring and retention.
In 2022, to energize our workforce and create more focus on D&I, we established a formal organizational goal to: Cultivate an environment of employee inclusion, innovation and passion for Williams' Vision to be part of the clean energy solution while maintaining and further developing our high-performance culture.
We continue to publish an annual Diversity & Inclusion Report to provide visibility and promote awareness of our diversity data, areas of focus and strategy. Williams also publishes our EEO-1 Survey Data, which provides a transparent breakdown of our workforce data into job categories, gender, race and ethnicity.
Diversity & Inclusion
Report
Our annual D&I report outlines our approach, provides key metrics, celebrates our progress and looks forward to our continued journey.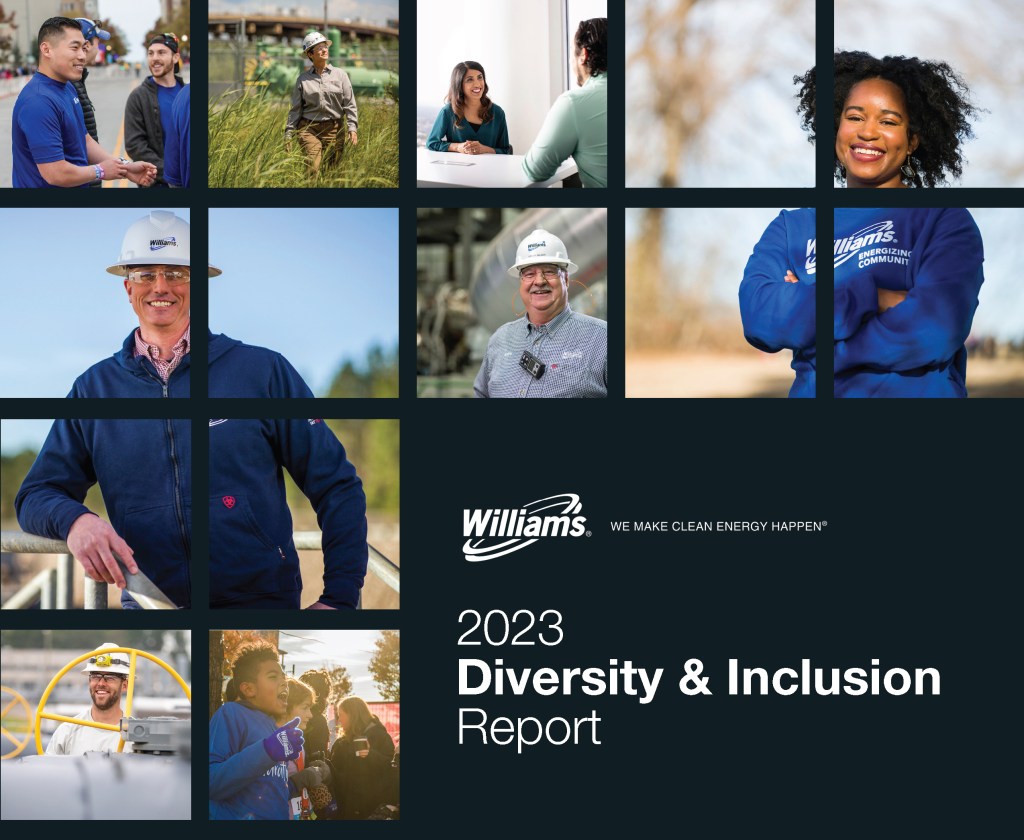 Williams further fosters an authentic workplace through our policies reinforcing D&I. Our Code of Business Conduct includes expectations for creating a positive work environment. Williams' Equal Employment Opportunity Policy outlines our approach to providing equal employment and advancement opportunities for all. Our Prohibition of Workplace Discrimination and Harassment Policy defines our commitment to preventing workplace discrimination and harassment. We require our employees to demonstrate their continued understanding of these policies through our annual Code of Business Conduct and Harassment training. Williams communicates diversity-related policies to employees through our intranet, emails and face-to-face or virtual team meetings.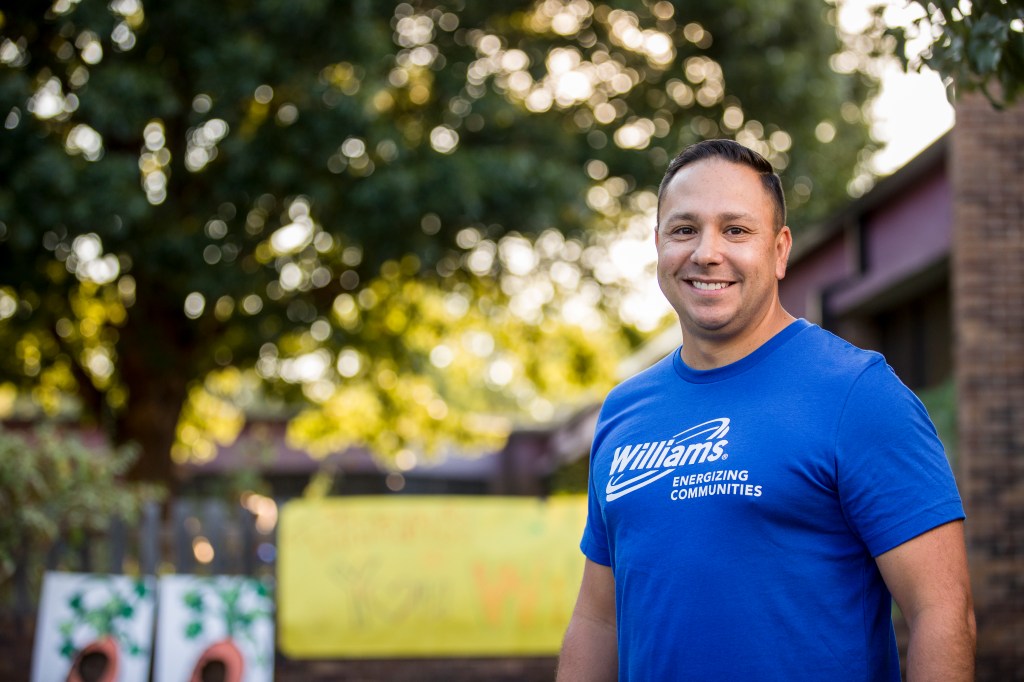 Programs & Initiatives
Williams believes creating an inclusive culture helps spark innovation and collaboration, bringing out the best in our people and driving business success. Through resources and training, we demonstrate this commitment toward creating a high-performing workforce where all individuals feel respected and valued for their contributions. We believe that educating and empowering employees, a strong leadership commitment and measurable goals are critical to accomplishing change within our company.
We provide tools and resources to help employees and leaders promote a diverse and inclusive culture. For example, our employees have access to the Williams D&I resource library to help facilitate difficult conversations at work and at home. Employees can also use our Leader Inclusion Playbook, containing readings and topical webinars to help navigate conversations about inclusion with their teams. Catalyst, our education platform, gives our employees access to more tools and resources free of charge, including research, webinars and exercises. Each tool contributes to our employees' ability and willingness to hold meaningful conversations, drive social awareness and promote allyship across the company. We also offer optional enterprisewide training on inclusive communication and management of diverse teams through LinkedIn Learning. Williams believes that a culture that values and invests in diversity and inclusion will attract and retain the best talent.
We continue to host Candid Conversations, enterprisewide panel events designed to encourage dialogue by removing barriers and allowing employees to develop a deeper understanding of our diverse backgrounds. In 2022, we held three Candid Conversations events, followed by small group discussions. These events centered around Women's History Month discussions, providing insights into women in leadership roles within our industry; Pride Month, inspiring employees to become advocates and allies of LGBTQ+ colleagues; and Hispanic Heritage Month, helping employees gain a greater appreciation for Hispanic culture.
Williams realized several other notable D&I-related accomplishments in 2022. We formalized action plans and shared them company-wide to address employee responses to our 2021 engagement survey questions about diversity and inclusion. We implemented a name pronunciation feature in Workday, allowing all employees to add an optional phonetic spelling of their name to their profile. Our monthly human resources electronic newsletter provided all formal leaders with employee demographic data and diversity and inclusion-focused resources. As a corporate sponsor for The Women's Energy Network, we provided memberships to our employees free of charge and sent a number of employees to the 2022 "Power On" conference in Fort Worth, Texas.
Despite progress made towards our D&I goal, we know more work needs to be done. In 2023, we will continue building our foundation by monitoring, measuring and adjusting our effort as required across the areas we have identified as fundamental to our D&I efforts. We have set several goals for 2023 to help continue our journey of focused improvement, including recognizing diverse employees and those who promote diversity, increasing representation in leadership and advancing organizational understanding of D&I metrics and longer-term strategies.
For more about our current and future planned D&I resources, initiatives and training programs, see our 2023 Diversity & Inclusion Report on our website.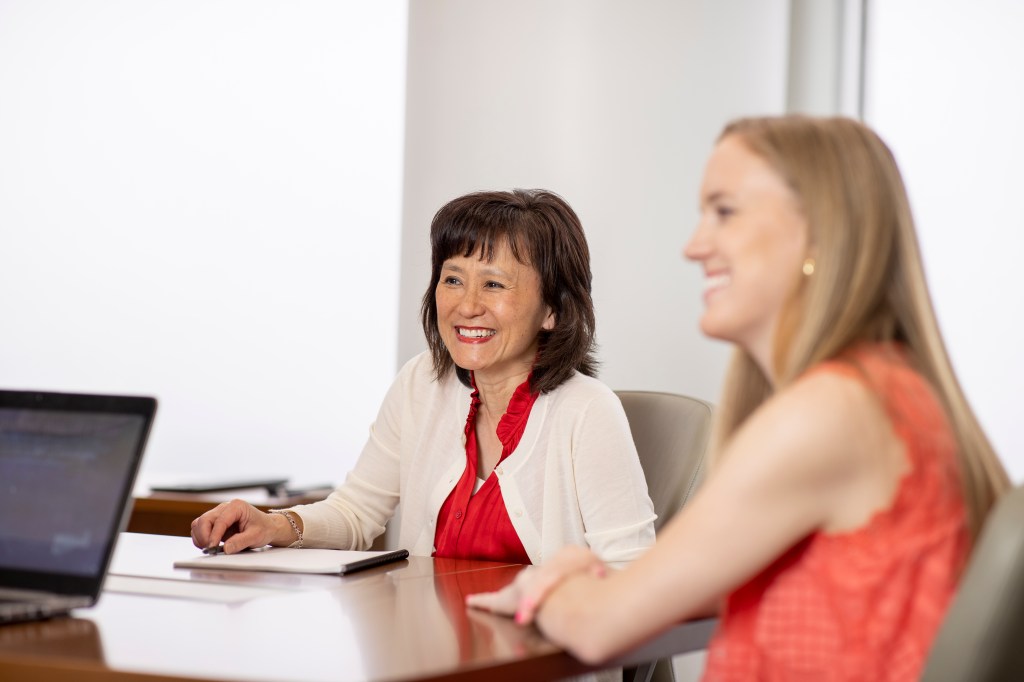 Employee Representation
Williams strives for diverse employee representation throughout the organization, which is driven by our talent management practices and employee development programs. We are committed to creating an inclusive culture and environment where all employees have an equal opportunity to advance into leadership positions. Our measurement of race and gender data allows us to assess trends, acknowledge gaps and focus our hiring, development and inclusion efforts in ways that help us attract and retain the best talent. Our Diversity & Inclusion Council formally reviews gender and underrepresented race and ethnicity data quarterly to identify trends and opportunities for improvements.
In 2022, we maintained an 89% internal fill rate for all leadership positions, focusing on internal talent mobility, promotion and diversity. In 2022, female representation in leadership was 22%, with no change from 2021, while leaders with underrepresented ethnic/racial identities comprised 15% of our leadership, an increase from 14% in 2021. Additionally, in 2022, we added one new female director to our board, continuing our longstanding practice of maintaining gender diversity in our leadership. Since 2004, our board has maintained at least two female directors. See Corporate Governance for more information about the diversity of our board of directors and senior leadership.
WILLIAMS WILL BE THERE
Showing Up Through Our ERGs
Our employee-led Employee Resource Groups (ERGs) provide formal and grassroots opportunities for our workers to come together to lend professional and personal support to one another, participate in community and volunteer events and promote inclusion across the company to create a more robust culture of belonging.
At the end of 2022, Williams had 10 ERGs with membership exceeding 1,100 employees; nearly 23% of our employee base. These ERGs were:
Asian Pacific Islander
Black
Latin
LGBTQ+
Men Advocating Real Change
Native
Women of Williams
Working Parents
Veterans
Young Professionals
ERGs and other employee committees help plan new initiatives, support growth opportunities and host a number of enterprisewide and local events in recognition of heritage months and other holidays, such as our enterprisewide Black History Month program planned by an employee-led Black History Month committee.