Why This Matters to Williams
Alongside the nearly 33,000 miles of pipeline Williams operates reside communities who rely on us to deliver natural gas affordability, dependably and with the highest safety standards to protect their families and livelihoods. Public safety is integral to everything we do, particularly when operating in densely populated areas. This includes promoting awareness and education, collaborating with local emergency response teams to build community resilience to potentially critical pipeline incidents and, finally, mitigating accidental damage caused by excavation, construction, farming and home maintenance. Our commitment is to be there to mitigate, prepare for and respond to public safety concerns across our national operations.
Emergency Preparedness & Damage Prevention
We are accountable to our stakeholders to prevent public safety events, prepare for various emergency scenarios and prevent harm and damage should a public safety risk manifest. The Williams Integrated Management System (WIMS) is how we communicate company-wide requirements for implementing required and supplemental pipeline and asset emergency response procedures. We annually review and update WIMS documents to remain abreast of evolving regulatory requirements and identify opportunities for continuous improvement. In addition, we align our Pipeline Safety Management System with API Recommended Practice 1173 and conduct periodic gap assessments and procedural enhancements.
Operating managers are responsible for establishing site-specific emergency plans at our facilities and pipeline areas, which contain public notification lists, evacuation procedures and operating requirements. We evaluate emergency plans at least annually. WIMS operationalizes our required safety processes and procedures throughout a project lifecycle, from land acquisition to decommissioning.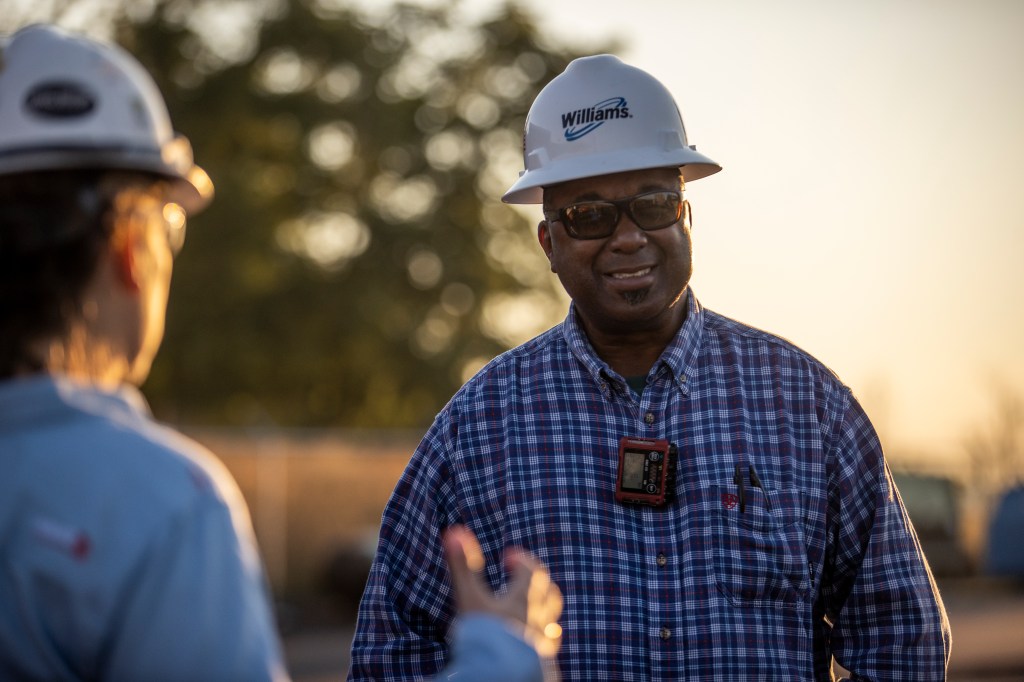 Additionally, our organizational public safety guidelines direct local efforts, while our emergency management program leverages site-level takeaways from across our footprint to continuously improve upon our policies and procedures.
Williams also implemented SMARTPLAN™ in 2022. SMARTPLAN™ is a third-party platform that houses all Williams' site-specific emergency plans, more than 100 Spill Prevention, Control and Countermeasure (SPCC) plans and multiple Oil Spill Response Plans (OSRPs). Now, all site-specific plans are electronic and follow the same template, making updating plans and cross-referencing across sites easier. SMARTPLAN™ integrates with our Human Resources management platform and updates internal contacts weekly, minimizing the possibility of outdated contact information being listed on an emergency plan. Additionally, employees can now use a mobile application to access emergency plans, contact key personnel and view site maps.
Employees at our sites across the United States complete annual safety drills and training exercises to prepare for a diverse set of emergency scenarios, such as accidental releases and security incidents. All incident support managers must undergo Incident Command System (ICS) training, and operations teams complete ICS tabletop simulations. In total, Williams conducted 11 full-scale drills, 11 functional tabletop drills and 11 tabletop drills in 2022, each including multiple external agencies. Repeatedly, we see sites going beyond minimum compliance expectations to train employees on safety procedures. For example, the Cypress Division of our Eastern Interstates pipeline set a 2022 goal to train all their employees in basic ICS practices through in-person training events, which they achieved in July 2022.
To help integrate preparedness and response, Williams requires sites to conduct exercises with local emergency response agencies at least every three years. Therefore, it is crucial that all parties understand their role in the response. In addition to drills and tabletop exercises, our online portal hosts web-based training courses for emergency responders. In 2022, we incentivized participation in this free program by distributing three $1,000 donations to agencies drawn at random that completed the course. We also conduct first-responder outreach efforts that include in-person meetings, facility tours and informational mailers. In 2022, Williams sent more than 21,000 mailers to emergency response agencies.
Additionally, in 2022, Williams implemented changes in response to the new DOT Pipeline and Hazardous Material Safety Administration (PHMSA) Potential Valve Rupture Notification Rule, which requires pipeline operators to inform local emergency dispatch centers immediately anytime a sudden and unexplained loss of pressure is identified, regardless of whether a rupture or emergency has been confirmed. As part of our efforts, we mailed an informational letter to every dispatch center in our footprint and to the National Emergency Number Association (NENA) to inform their members if desired, which also invited discussion on how to adapt to the new rule. According to NENA and multiple dispatch centers, Williams was the only company to engage with them on the rule at the time. Similarly, we are evaluating process and data management modifications in anticipation of regulators' potential adoption of the proposed API Recommended Practice 1185, intended to enable two-way stakeholder communication.
If an emergency incident does occur, our operations managers are prepared to arrive at the incident site, notify appropriate emergency response officials and resolve the incident as soon as possible. Williams has implemented an operating requirement outlining the incident notification and reporting process. This process requires immediate telephonic notification to the Williams Security Operations Center and facilitates required notifications, documentation of incident details and process improvement review. We maintain updated notification lists and coordinate with local emergency response organizations to effectively communicate information to local communities. Following an incident, we conduct a full investigation to uncover the cause and prevent future occurrences. In addition, we employ a standard method for managing post-emergency response and remediation efforts at company sites.
In 2022, Williams donated $666,618 to support 285 first–responder organizations throughout our footprint. Additionally, we provide aid to employees and communities affected by natural disasters. For more information, please refer to the Community Investment section.
Public Awareness
We engage community stakeholders in awareness and education efforts to effectively protect public safety and prevent damage. We enhance public awareness and knowledge of Williams' assets through vigorous stakeholder engagement with landowners, occupants, farmers, businesses, schools, emergency officials, public officials, excavators and other interested parties. With oversight from Williams' Public Awareness and Damage Prevention steering committee, our efforts integrate best practices from Common Ground Alliance, a member-driven association committed to preventing damage to underground infrastructure through initiatives like the national 811 "Call Before You Dig" number.
In alignment with API Recommended Practice 1162, Williams evaluates the effectiveness of our Public Awareness Program using the API Public Awareness Program Effectiveness Research Survey (PAPERS) program, which delivered our most recent four-year effectiveness measurement in 2022. PAPERS allows us to benchmark the performance of our practices against like-sized peers to drive continuous improvement.
Third-party damage resulting from digging near pipelines without proper notification to Williams or an 811 One-Call Center continues to pose a significant threat to our pipeline safety.
By law, excavators are required to call 811 at least 48–72 hours before digging (varies by state) before starting any digging project, which gives underground utilities enough time to mark their lines with temporary flags or spray paint. Our mitigating excavation-related safety measures, which align with or exceed industry best practices, enhance public safety and asset integrity. Williams sends an annual public awareness mailer to farming and ranching stakeholders located within 10 miles of our pipelines. We also use mailers to answer questions and provide important safety information to emergency response personnel in communities surrounding Williams' three LNG storage facilities. We maintain a 24-hour control center, which uses one phone number nationwide, and always encourage individuals to call to report any abnormal conditions, suspicious activities or emergencies at Williams' pipelines and facilities.
Each year, we adjust our public awareness practices in response to stakeholder engagement and actions. For example, in response to an increase in unauthorized encroachments by logging operations in 2022, we developed a supplemental logging-specific brochure. We also added language to our mailers that addresses logging operations and the traversing of heavy equipment across pipeline easements and rights-ofway, which will be implemented throughout 2023. Similarly, when our teams detected an increase in encroachments by new excavating companies — those that began operating after our annual excavator-specific mailers were sent — we established a biannual cadence for our stakeholder identification process for excavators and sent supplemental mailers. This halves the maximum time an excavating company can exist before receiving an educational mailer.
In addition to our standardized and supplemental mailer efforts, our teams conduct supplemental outreach activities with landowners, farmers, professional excavators and other stakeholders. In 2022, we recorded a 37% increase in documented supplemental outreach activities compared to 2021, demonstrating enhanced outreach efforts by our teams. Employees document these interactions using Williams' electronic form via a mobile application or web browser.
Our online damage prevention toolkit provides field personnel with tools, resources and technologies to identify and prevent line strikes. We regularly update the toolkit with new best practices, lessons learned and improved tools and technologies. Williams uses a dashboard that internally communicates trends in near-miss and line-strike data across the company and helps drive reporting consistency.
We comply with all relevant DOT requirements, including an annual manual assessment of the alignment of our operating requirements with regulatory, technical or industry standard developments. Williams experienced one DOT reportable line strike caused by a third party in 2022. The incident occurred when a farmer struck a line while deep plowing without first calling 811. In response, we initiated a process to better assess risks of excavation damage by utilizing field data on depth of cover. The use of this data allows for more useful discussions of risk mitigation options moving forward. Additionally, we recorded another third–party incident where a truck crashed into a meter station. No injuries occurred as a result of either incident.
WILLIAMS WILL BE THERE
Innovating for Public Safety & Awareness
Accidental pipeline strikes during excavation can pose danger to public safety and our assets. Thankfully, these strikes are preventable through proper notification by the excavating parties and enhanced public awareness of these procedures. In 2022, Williams undertook two pilot programs to prevent unauthorized encroachments and protect public safety and our assets.
Program #1
In response to an increase in encroachments by parties who notified us properly but failed to have us be present during excavations, we implemented new, custom pipeline markers. These one square foot yellow vinyl flags sit atop brightly colored fiberglass stakes and are labeled with a warning and phone number for excavators to call to have a Williams representative join the job site. Piloted in four operational areas in Texas and North Carolina, these markers are unique in the industry today
Program #2
Our four-year Public Awareness Program effectiveness evaluation uncovered a correlation between lower stakeholder awareness scores and high incidents of unauthorized encroachments resulting in line strikes and near misses. To concentrate our supplemental efforts on the most impactful areas, Williams is piloting a targeted advertising campaign that utilizes geofencing technology. Geofencing marks a virtual boundary around a geographic area and triggers an alert to internet-connected devices within the area. We plan to operationalize this project in four states in April 2023.