Constitution Pipeline gave a number of worthwhile organizations a reason for thanksgiving, providing them with community grants totaling $116,000.
Constitution Pipeline announced the recipients of its Constitution Pipeline Community Grant program, awarding 11 grants to benefit local communities within the counties traversed by the proposed pipeline project.
One of the 11 recipients is the Delaware County Sheriff's office, which plans to use a $17,700 grant to aid in the purchase of two Polaris Ranger utility vehicles for use by first responders in reaching areas not easily accessible by full-size vehicles.
"This grant award will be used to improve our emergency response capabilities by allowing us to replace our existing 15-year-old ATVs with two new Polaris Rangers," said Tom Mills, Delaware County Sheriff. "It is often necessary to respond to emergency situations, such as logging or farming accidents, which occur in rough terrain or isolated areas not accessible by roads. The new Polaris Rangers are badly needed. We sincerely appreciate the support of Constitution Pipeline in helping the Delaware County Sheriff keep the community safe."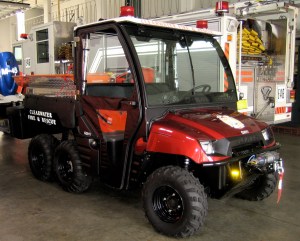 Another recipient is the Conesville Fire District located in Schoharie County, which plans to use a $15,000 grant to aid in the purchase of a new fire truck.
"The grant from Constitution Pipeline is going to be used to help purchase a new fire truck, which will lower our maintenance costs and give our firefighters and the community more protection," said Bill Hanson, former vice chairman, Conesville Fire District. "We need to replace our 1977 GMS fire truck this year. We have saved 200,000 dollars but still have a shortfall that these dollars can help fill. We are very grateful for the contribution from Constitution Pipeline."
Since its inception in 2012, more than $1.9 million has been awarded by the Constitution Pipeline Community Grant Program to 145 organizations to help fund noteworthy projects that directly benefit communities in the pipeline project area.
For a complete listing of the grant recipients, click here.