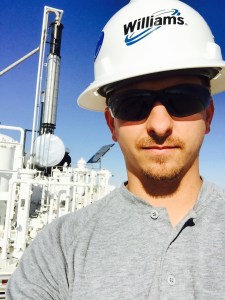 My name is Alex and I am a recent graduate of The Pennsylvania State University. I started at Williams in May 2014 as an Engineering Intern in Moundsville, West Virginia. I am currently in my first Professional Development Program rotation as a Facilities Engineer for Permian Operations in Midland, Texas.
As Michelle stated in a previous blog post, change is just about the only constant we have in life. Change has been a very prevalent topic in our industry of late. It is natural to become nervous as change occurs throughout our lives.
However, it is important to embrace change and the opportunity it presents.
It is critical to keep an open mind and take advantage of the opportunities this change can bring. Winston Churchill had a fantastic quote about difficulty and change in our lives, "A pessimist sees difficulty in every opportunity; an optimist sees opportunity in every difficulty."
Yes, there is a lot of uncertainty and difficulty that comes with change. However, it is important to make the best out of the situation and grow from the experience and opportunities that come from it. Change is mandatory in life, growth is optional.