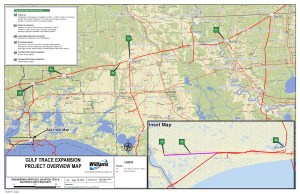 Construction is officially underway in Calcasieu Parish, La., on Williams' Gulf Trace Expansion Project. Crews were on the ground this month mobilizing equipment for clearing and grading and setting up silt fencing in preparation for construction of a new 32,000- horsepower Transco compressor station.
The Gulf Trace project has been designed to expand the existing Transco pipeline system in order to deliver gas to the Sabine Pass Liquefaction Facility 2 in Cameron Parish, Louisiana. In addition, the project includes the installation of seven miles of new 36-inch concrete-coated pipe from the existing Transco pipeline in St. Helena Parish to the Sabine Pass Liquefaction Facility meter station. The project will also include an additional two 16,000 horsepower compressor units at Transco's existing Station 44 in Cameron Parish.
The Gulf Trace project is designed to make Transco's production area mainline and southwest Louisiana lateral systems bi-directional from Station 65 in St. Helena Parish, La. to Cameron Parish, La. The pipeline reversal is planned in order to provide firm transportation service to the Sabine Pass LNG facility.
Once complete, the expansion will add 1.2 million dekatherms per day of capacity to the Transco system. The project will be placed into service during the first quarter of 2017.