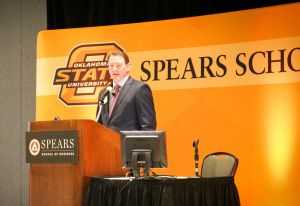 If you live in Oklahoma there's a good chance you have a friend or neighbor with a career at an energy company. The oil and gas industry has been creating jobs in the state dating all the way back to the late 1800s when oil was first discovered in Oklahoma.
This week in Tulsa a group of energy company leaders spoke to a roomful of college students and industry peers about riding out the current down cycle.
"Demand cures all ills," said Frank Billings, senior vice president with Williams, who pointed to growing demand for natural gas between now and 2020 to serve power generation, industrial and LNG export needs.
The 2016 Oklahoma State University Energy Conference was presented by the Department of Finance and the Center for Executive and Professional Development in the Spears School of Business at Oklahoma State University in association with the Natural Gas and Energy Association of Oklahoma.
Other speakers included Jeff Selvidge, senior vice president of Magellan Midstream Partners; Clay Gaspar, senior vice president and COO with WPX Energy Inc.; and Dana L. Murphy, commissioner, Oklahoma Corporation Commission.