A state and a nation are paying respects to a national hero.
Bretagne (pronounced Brittany), the search-and-rescue golden retriever owned by Williams employee Denise Corliss, died Monday in Cypress, Texas. Bretagne was 16 years old and the last surviving search-and-rescue dog to have served our country after the Sept. 11 attacks.
Denise and Bretagne spent Sept. 17 through Sept. 24, 2001, working grueling 12-hour shifts searching for survivors at ground zero in New York City. Denise, manager, Engineering, is a member of an elite urban search and rescue team called Texas Task Force 1.
In addition to her service in support of 9/11, Bretagne also searched for survivors following Hurricanes Katrina and Rita.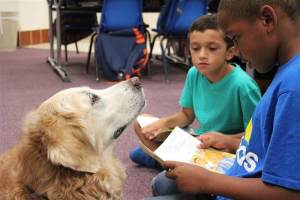 After retiring from search-and-rescue work a few years ago, Bretagne's service continued as more of a therapy dog. She spent one day a week working with first graders at Roberts Road Elementary School in Hockley, Texas. The students had difficulty reading aloud to classmates, so Bretagne helped them by listening attentively as they read aloud to her instead.
In 2014, the American Humane Association named Bretagne a "Hero Dog" in its Search & Rescue category. She was nominated for the honor by Dr. Cindy Otto who monitored the health of all the 9/11 search-and-rescue dogs over the years.
Bretagne was two months away from celebrating her 17th birthday.
National News Coverage: