With summer officially upon us, the Rockaway Point Association recently dropped us a note thanking Williams for a $6,100 grant to purchase four beach wheelchairs to provide beach access for those with physical disabilities in Rockaway, N.Y.
"I wanted to let you know that we have received one of the four beach wheelchairs that we funded by The Williams Company Rockaway Grant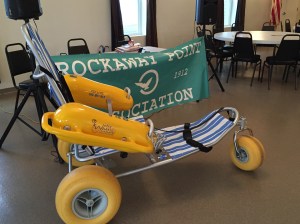 program," wrote Joanne Fogarty, President of the Rockaway Point Association.
She continued, "The Breezy Point Cooperative beaches officially open today for the summer.  I brought this WaterWheels chair to the Rockaway Point Association meeting to show it to the membership, and the response was amazing.  This chair has been deployed on the bay swim beach in Rockaway Point, and can actually go into the water to a given level, ensuring that everyone has access to not only our beach, but also to the water."
Since its inception in 2014, more than $580,000 has been awarded by the Rockaway Community Grant Program to local organizations to help fund noteworthy projects that directly benefit the environment and local communities. The mission of the Williams Rockaway Community Grant Program is to assist in the development of projects that directly benefit the surrounding communities where Williams' Rockaway Lateral is operated.
Grants up to $15,000 per funding cycle will be awarded based on community need and can be used to provide environmental benefit or economic development, or to support emergency services, youth and senior programs, or education programs.