Local emergency services, community, educational and environmental initiatives are benefiting from more than $91,000 in grants distributed to community organizations that reside in, and /or provide services to the area surrounding Rockaway, N.Y.
Williams – a major operator of natural gas infrastructure in New York – recently announced the latest recipients of the Rockaway Community Grant Program, awarding grants to 21 local organizations.
One of the 21 organizations is the Gerrittsen Beach Fire Department, which plans to use a $10,000 grant to improve existing emergency communication infrastructure.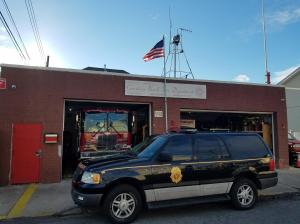 "This much-needed grant award will be used to allow us to more effectively coordinate with other volunteer fire departments in New York City," said Daniel Cavanaugh, Chief of the Gerrittsen Beach Fire Department.
"Currently, we have limited ability to dispatch and communicate with emergency vehicles over long distances.  This grant award is going to be used to improve communications and resolve that issue. We are very grateful for Williams' support, which is going to help improve the safety of our community."
The Rockaway Community Grant program is designed to benefit the environment and local communities in which Williams operates its Transco natural gas pipeline near Rockaway, N.Y.  The company has awarded nearly $800,000 since the grant program was first initiated in 2014.
Grants up to $15,000 per organization are awarded to organizations promoting initiatives that support environmental enhancement, education, economic development, emergency services, youth and senior programs.
Williams provides natural gas to the New York City area through its Transco pipeline, a 10,200-mile pipeline system which transports natural gas to markets throughout the northeastern and southeastern United States.