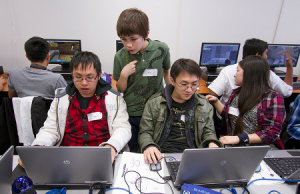 Local emergency services, community, educational and environmental initiatives are benefiting from more than $80,000 in grants distributed to community organizations that reside in, and/or provide services to the area surrounding Rockaway, N.Y.
Williams – a major operator of natural gas infrastructure in New York – today announced the latest recipients of the Rockaway Community Grant Program, awarding grants to 25 local organizations.
One of the 25 recipients is the Brooklyn Public Library, which will use a $5,000 grant to help fund its Today's Teens, Tomorrow's Techies (T4) program.
"This much-needed grant will allow us to continue our highly successful T4 program, which has provided more than 1,400 Brooklyn teens with hands-on technology training, meaningful volunteer experiences and internship opportunities," said Samantha Dodds with Brooklyn Public Library.
The Brooklyn Public Library's T4 program provides students with an introduction to the Information Technology field while enhancing public services through technical assistance and teen-led programming. After completing an intensive summer training program, teens are assigned to volunteer at local branches where they are paired with IT staff members who act as on-site mentors.