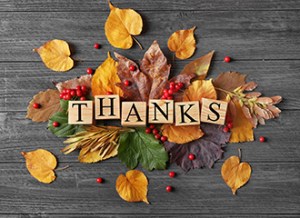 I sometimes forget that Thanksgiving is a time to give thanks. When I'm hosting the holiday feast, I'm too busy thinking about my grocery list, recipes, cleaning the house, etc. Since my sister is hosting this year, I have a little more time to reflect on the true meaning of Thanksgiving.
Here are a few things that came to mind:
Today, I'm thankful for…
My family, friends, coworkers and neighbors
My health
Those who serve in the military, emergency services and law enforcement
Teachers, nurses and doctors
Caregivers, maintenance workers, housekeepers, dining staff, therapists and hair stylists who work in senior living homes
Brilliant minds working to eradicate cancer, Alzheimer's, heart disease
Non-profit organizations and the people who dedicate their lives to serving our community
Public servants who really work to make a difference
Freedom
Clean air and water
A great job with a great company
A warm bed and a roof over my head
A hot shower and good cup of coffee
Food in the pantry and refrigerator
An abundance of natural resources that makes my life better and provides our country with energy security, jobs and modern conveniences
Clean natural gas that provides heat, hot water and electricity, and its byproducts that go into manufacturing practically everything I use every day
Dogs
If you have some spare time during the holidays to make your own list, you might consider taking part in Giving Tuesday – Nov. 28 – a global day of giving. Choose an organization you're thankful for and make a donation that day.
Looking at my list above, there are a multitude of organizations in my community that provide services to people who are need of these basic essentials.
Or simply take the time to say "thanks" to someone who deserves it.
Sara Delgado, a communications specialist and 21-year Williams employee, wrote this post. This is part of an occasional series called #Natgas Mom.