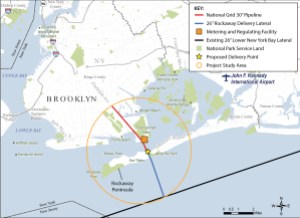 The American Council of Engineering Companies of New York has recognized Williams' Rockaway Delivery Lateral project with its prestigious Platinum Engineering Excellence Award.
 The award recognizes the engineering work associated with the Rockaway project, which was successfully placed into service in 2015. The 3-mile, 26-inch offshore pipeline provides natural gas from the existing Transco pipeline in New York Bay to the Rockaways. The project marked the first new delivery point for interstate natural gas infrastructure into New York City in more than 40 years.
"This Rockaway Delivery Lateral Project is a great example of how prudent engineering design combined with an innovative approach to environmental mitigation can ultimately deliver exceptional results," said Evan Kirchen, Williams vice president of Project Execution.
As part of the environmental mitigation associated with the project, Williams' engineering contractor, E&E Engineering, created a successful mitigation plan to enhance the
413-acre Rockaway Reef
, a designated artificial reef area in the Atlantic Ocean seaward of the Rockaway Peninsula. The plan included the deployment of 450 sections of concrete-coated pipe to increase the connectivity and habitat value.
In addition, the project earned 
high marks
 for the rehabilitation of the historic Floyd Bennett Field abandoned airplane hangars, which were reused to house Transco's meter and regulating facility. The adaptive reuse of the hangers preserved their historical character, while the lease fees to the National Park Service for the use of the hangars supports park maintenance and future park improvements.
The project was unique in its permitting complexity, requiring Congressional approval to grant the National Park Service authority for the adaptive reuse of the hangers.