The Allentown Morning Call published a guest column last month highlighting the importance of improving and expanding the critical infrastructure that powers America.
Titled, "Improving energy infrastructure key to nation's security, economy" author David Spigelmyer writes about the importance of energy infrastructure, noting that in the wake of the shale revolution it's never been more important to heed that call to add infrastructure, especially in the Commonwealth of Pennsylvania.
He writes:
"Simply put, infrastructure connects families, businesses and communities together. It provides the conduit to keep the lights on, to get to work and school, to power industry and to grow. When it's neglected, everyone's lives and livelihoods are put at risk."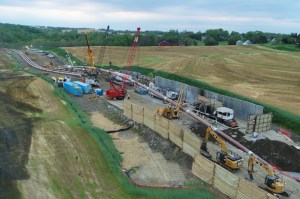 Spigelmyer articulates the benefits of adding infrastructure to deliver more affordable energy to where it's needed.
"The benefits are clear. Infrastructure projects create jobs. A report by global consultant ICF predicts U.S. energy infrastructure development can create more than 1 million American jobs by 2035. According to an analysis by McKinsey & Co., we could see at least 100,000 more family-supporting jobs in Pennsylvania alone with a $60 billion increase in gross domestic product from manufacturing."
Spigelmyer highlights Williams' Atlantic Sunrise project as one example of a major infrastructure project that is delivering tangible benefits to Pennsylvanians. Besides jobs, he calls out that Pennsylvania residential electricity prices have decreased by 79 percent and home heating bills have fallen by 40 percent in the past decade. The average family now saves $1,500 annually thanks to local production of natural gas.
To read the full article, click here.