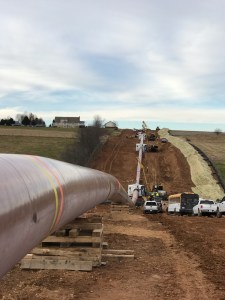 Construction is nearing completion on the Atlantic Sunrise pipeline project – a critical expansion of the existing Transco natural gas pipeline to connect abundant Marcellus gas supplies with markets in the Mid-Atlantic and Southeastern U.S.
Williams is reporting that the project is targeted for mechanical completion beginning in August 2018, with full service (1.7 billion cubic feet per day) anticipated to commence in the second half of August 2018, assuming timely receipt of the remaining regulatory approvals. A portion of the mainline component of the project (550 million cubic feet per day) has already been placed into service.
Mechanical completion means that the installation of facilities is complete. However, this does not include final commissioning, which is necessary prior to placing facilities into service. The process of certifying project-related facilities as "mechanically complete" began in June and is expected to be completed in August. The current mechanical completion date is based upon current contractor schedules and may be affected by weather.
Final cleanup and right of way restoration work has begun and will continue for the remainder of 2018 and into 2019. This means cleaning up and restoring the work-area as closely as possible to its original condition.
Greenfield construction on the Pennsylvania portion of the Atlantic Sunrise project began in September 2017. The project has featured the installation of approximately 200 miles of large diameter pipeline, two greenfield compressor stations and compressor station modifications in five states.
Additional information about the Atlantic Sunrise project can be found at http://atlanticsunriseexpansion.com/