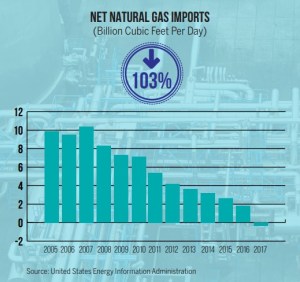 Energy in Depth recently released a new infographic that illustrates how hydraulic fracturing and horizontal drilling have transformed the United States' fortunes from that of energy scarcity to energy abundance in just a decade's time.
Data from the U.S. Energy Information Administration shows that U.S. crude oil and natural gas production increased 80 and 49 percent from 2005 to 2017.
In the meantime, net imports of crude oil and petroleum products have declined 70 percent since 2005, while net natural gas imports have plummeted 103 percent.
The United States was an annual net exporter of natural gas last year for the first time in 60 years, and multiple experts believe the United States will become the world's top LNG exporter by the earlier 2020s.
Click on the image below to see the full infographic: