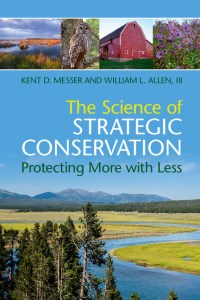 A new book highlighting innovative best practices in environmental conservation includes a case study on Williams' Atlantic Sunrise Environmental Stewardship Program.
Titled 'The Science of Strategic Conservation,' the book is co-authored by Will Allen, Vice President, Conservation Services as well as Director of the Conservation Fund's Strategic Conservation Planning program, and Kent Messer, Unidel H. Cosgrove Professor and Director of the Center for Experimental & Applied Economics at the University of Delaware.
In 2015, Williams partnered with The Conservation Fund to invest $2.5 million in pioneering an environmental stewardship approach to developing its Atlantic Sunrise linear infrastructure project in central and eastern Pennsylvania.
The book offers practitioners in conservation an array of proven scientific tools and exercises to protect land and water resources.  Included in its list of case studies, the book details how Williams' Environmental Stewardship Program was brought to life.
"The book is a call for action," said Messer. "We provide a frank assessment of what has worked in conservation and highlight some of its failures. Conservation efforts throughout the world have a lot of important work to do and the good news is that we have fantastic new tools to build upon successes."
Williams' environmental stewardship program began with The Conservation Fund's development of a scientifically-based identification and evaluation of natural resource stewardship needs in the Atlantic Sunrise project area. This exercise led to the identification and funding of 17 high-potential projects supporting aquatic restoration, nutrient reduction, and trail enhancement.
Once complete, this formal conservation process resulted in the restoration of over 30 acres of streamside habitat, the creation of almost eight miles of new trails, and the storage of approximately 925 tons each year of manure, which reduces quantities of nitrogen, phosphorus, and potassium entering nearby streams and improves water quality.