After nearly two decades of handling billions of cubic feet of natural gas, Williams' Canyon Station pipeline junction platform now serves a new purpose, sustaining a healthy Gulf of Mexico ecosystem as an artificial reef.
The retired platform, located 60 miles off the coast of Alabama, was recently disassembled into two massive pieces. The 3,600-ton topsides was lifted and placed on a transportation barge to be sent to shore for scrapping, while the 1200-ton steel frame supporting the deck (known as the jacket) was cut 110 feet below the water line and lowered to the floor of the Gulf of Mexico.
There, 300 feet under water, the jacket will become home to barnacles, mussels, sponges and other aquatic invertebrates and a way station for migratory fish from red snapper to whale sharks seeking food and shelter.
This new life for an old platform, also known as MP 261JP, comes as part of an artificial reef program managed by the State of Alabama Marine Resources Division (AMRD).
The State of Alabama manages the most diverse and productive artificial reef program in the United States. AMRD has utilized a multitude of different materials over the decades to create ecologically productive reefs with decommissioned bridge spans, oil/gas platform jackets, limestone aggregate, pre-fabricated reef modules, and even army tanks.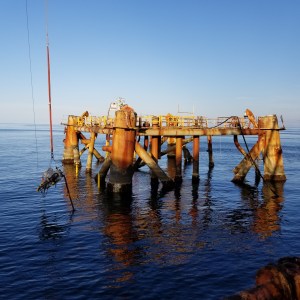 Scientists discovered long ago that as offshore oil production ventured deeper into the ocean waters, the platforms became magnets for shrimp, snapper, coral and other species that had long clung to scattered hard banks rising from the Gulf's vast floor of mud, clay and silt.
"The rigs to reefs program is a win-win for Williams and the environment," said Mark Cizek, Williams vice president & general manager of Gulf East. "Not only does it create thriving, aquatic ecosystems, but also saves companies like Williams the expense of hauling platforms back to land, then dismantling and disposing of them."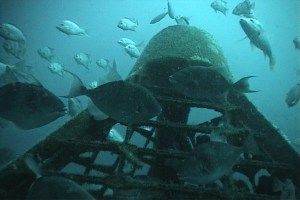 Historically, obsolete rigs had to be moved onshore and dismantled, disrupting the complex marine communities they attracted during their service and costing oil companies millions of dollars in disposal costs. As oil and gas activity in the Gulf declined in the 1980s and more and more rigs were being scrapped, states like Alabama developed comprehensive programs for artificial reef development to protect the valuable habitats the rigs had created.
In the case of Canyon Station, a decline in gas production from nearby producers influenced the decision to abandon the two 12-inch production flow lines and decommission the platform. This meant removing and transporting the platform back to shore while reefing the jacket in place.
Williams contracted specially-designed vessels to lift and move the 3600-ton topsides to shore and reef the 600-ton top segment of the jacket adjacent to the base in Main Pass Block 261 where it was successfully positioned as an artificial reef.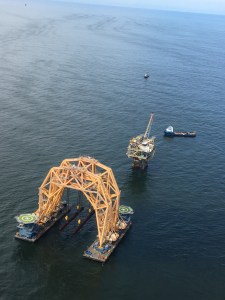 Williams environmental scientists says it's amazing how quickly the rig to reef transformation takes place, and that marine species, including fish, will find the Canyon Station structure immediately and that after six months to a year, the site is well established as an artificial reef.