A diverse group of Williams employees brought Black History Month to life with a slate of virtual programming aimed at education and understanding.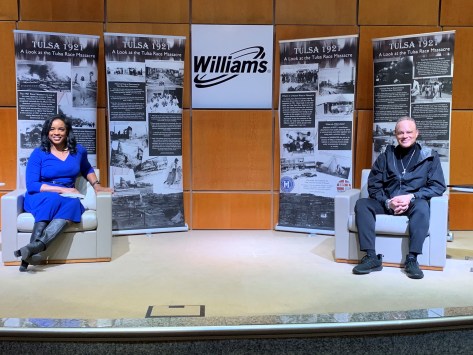 The month-long initiative included weekly events for all employees, aimed at showcasing Black history and culture, and an appreciation for diversity and inclusion of all forms.
"I know that inclusion starts with education," said Mikeale Campbell, manager Diversity & Inclusion. "I felt it was an obligation to bring awareness to the experiences and contributions of Black people."
Campbell said the Black History Month planning started well before he joined Williams this year.
Several years ago, a group of employees planning annual Martin Luther King Jr. commemorations wanted to build on that employee engagement by hosting Black History Month events in Tulsa.
This year, the events were done virtually and available to all Williams employees, instead of just the company's major offices.
Events included taped performances by school groups, conversations around health equity and race, and a Q&A about the 1921 Tulsa Race Massacre, which happened just miles from Williams' Tulsa headquarters. Williams' work in the Black community, including a youth center in Tulsa, also was highlighted.
"We often think of Black history as just work of the past, but the reality is much Black history is still just now being written," Campbell said.
Houston employee Juanita Parker said she was eager to help plan events and also developed daily fact sheets about Black history, highlighting people, places and politicians that changed the world.
"Some of these events and inventions were so profound, they changed the course of history," she said. "I believe it is key to illustrate these contributions and understand that Black history is indeed American history."
Erma Matthews, a descendent of a Tulsa Race Massacre survivor, said she appreciates that Williams values inclusivity and diversity and wants all employees to bring their authentic selves to work.
"We are building a corporate culture that embraces all employees who bring not only their skills and knowledge but also their traditions and values," she said.
Tulsa employee Kelly Cook agrees.
"Everyone deserves to be valued for their contributions. We are all stronger when we stand together, hold each other up, and cheer each other on."
Kelly Scott, also a descendent of a Tulsa Race Massacre survivor, said understanding and celebrating our cultural differences is the only way to move forward in unity.
"The hope is that one day African American history and other cultural histories will not need to be separated but that we are all celebrated as American history."