When the crush of winter weather paralyzed parts of the nation in February, Williams' bi-directional Northwest Pipeline was able to meet increased need to customers in hard hit areas like Texas through deliveries to interconnecting pipelines that serve these markets.
Despite the historic cold, "Williams operated above design capacity on our Northwest Pipeline system for a period and delivered flawlessly on a new record three-day peak on the Northwest Pipeline system," said Alan Armstrong, president and chief executive officer of Williams.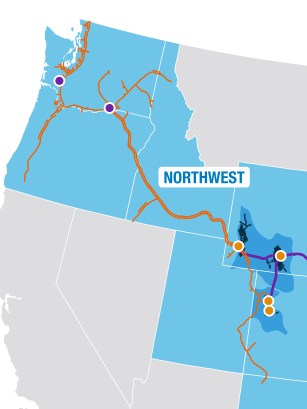 Northwest Pipeline moved 3.9 billion cubic feet of gas on Feb. 12, surpassing the 10-year peak day record by over 200,000 dekatherms. This represents enough natural gas to serve the energy needs of more than 20 million U.S. homes on an average day.
The company also established a new three-day delivery record, totaling 11.2 billion cubic feet.
"Northwest Pipeline was able provide the firm deliveries to our customers in the Pacific Northwest and transport a record amount of gas from Canada and storage to customer interconnecting pipelines serving the midcontinent and West Texas during the extreme winter event," said Gary Venz, director, Commercial Services for Williams. "The bi-directional pipeline was designed for such flexibility and employees worked hard to meet critical needs of the market."
The Northwest Pipeline system is a 3,900-mile bi-directional transmission system crossing the states of Washington, Oregon, Idaho, Wyoming, Utah and Colorado. Northwest's bi-directional system provides access to British Columbia, Alberta, Rocky Mountain and San Juan Basin gas supplies.
"To manage cold spells takes operational discipline and coordination with pipeline operations, field personnel and the commercial team, as well as the copious planning and execution from a maintenance and reliability standpoint that goes on throughout the year, that ensures the system is ready for peak cold weather," Venz said.