3D printers used by Williams engineer Andrew Hayek to create face shields for hospital workers are now educational tools for area youth.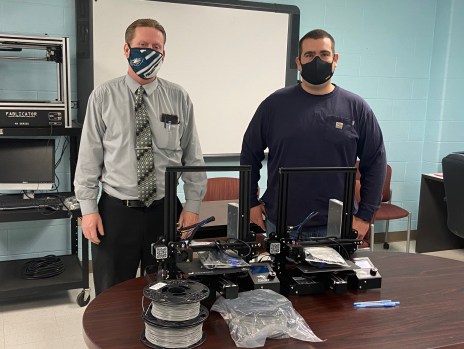 Hayek used the machines, two purchased by Williams, to make more than 800 face shields last year, as the pandemic surged and supplies were low at Geisinger Medical Center in Danville, Pennsylvania. Hayek's wife Sarah is a medical resident there.
Andrew said each face shield frame took about 2.5 hours to create on his own 3D printer. But with additional printers donated by Williams and local doctors, he was able to make about 50 each day.
"When the hospital asked if I could make more, I said, why not? I'm not the one there doing this life-saving work, but I can help the people who are," he said.
The printers were donated to the Montrose Area School District and Susquehanna County Career and Technology Center.
Craig Owens, director of technology at the Montrose district, said students will use them in multiple ways, including in applied art and mechanical drawing classes, along with pre-engineering curriculum.
"The Montrose Area School District is thrilled to accept the generous donation from Williams of two 3D printers. They will find a welcome home in our high school," he said.
Mark Fenton, IT coordinator of the Susquehanna County Career and Technology Center, said students there will learn to operate, configure, assemble and repair 3D printers.
"They are the type of printer that allows students the ability to learn every aspect of 3D printing from building them to repairing them," he said.
---
When Williams engineer Andrew Hayek received a 3-D printer at Christmas, he planned to make toys for his toddler …