If you find yourself driving U.S. Highway 56 near McPherson, Kansas, you'll notice a series of tall vessels that make up Williams' Mid-Continent Fractionation & Storage facilities. But what you may not see is the vast network of more than 140 underground salt caverns below that store millions of barrels of natural gas liquids, or NGLs. These liquids are used for home heating, indoor and outdoor cooking, motor fuels and as industrial feed stock for plastic manufacturing.
At our Conway operations, you're likely to see more white pipe over-bends, indicating storage caverns, than you are to see people. Underground NGL storage began in this area during the mid-1950s as small storage operations geared up to serve the propane industry.
The presence of bedded salt layers, deposited during times when the United States was a vast sea, resulted in ideal conditions for underground NGL storage. This geological wonder has been instrumental in the development and evolution of a major pipeline corridor that stretches from New Mexico to Minnesota and Illinois. Along with a 100,000-plus-barrel-per-day fractionator, these caverns make Conway a vital hub for a major portion of hydrocarbons moving though the Midwest.
Today, more than 21 million barrels of storage for propane, ethane/propane, butane, isobutane, and natural gasoline can be found at Williams' Conway facilities, where more than 90 employees work.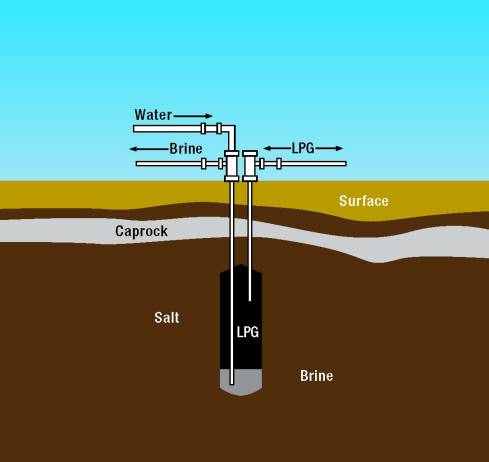 Salt caverns ideal for storing hydrocarbons
Salt caverns used for underground storage are developed using well-drilling equipment. A hole is drilled from the surface to the depth of the salt formation, and a smaller diameter pipe called tubing is lowered through the middle of the well. This arrangement creates two pathways into and out of the well.
To form a salt cavern, the well operator pumps fresh water through one of the pipes. As the fresh water comes in contact with the salt formation, the salt dissolves until the water becomes saturated with salt. Cavern space is created by the removal of the salt-laden brine.
Salt caverns are essentially impermeable, meaning no fluid or gas can escape the surrounding rock salt. This makes them ideal for storing hydrocarbon and NGL products.
Where do the NGLs go from here?
From the underground storage in Conway, the products are transported by railroad, truck and pipelines.
The underground storage at Conway connects to numerous pipelines that transport the products to other parts of the Midwest and many Gulf Coast petrochemical complexes that make plastics. Automated truck docks simultaneously can service six trucks – four loading and two unloading. The rail dock can load or unload 30 rail cars at the same time. In the winter months during the peak propane season, activity at these facilities is tremendous. Williams also loads and unloads rail cars at the Hutchinson Rail Facility, including propane and demethanized unit trains.
Besides the vast underground storage facilities in the Conway area, Mid-Continent Fractionation & Storage operates three NGL pipelines, approximately 29 miles in McPherson and Rice Counties. These pipelines connect our three underground storage facilities with more than 140 active NGL storage caverns. The Conway fractionator is owned by Williams, Conoco Phillips and ONEOK, and operated by Williams. This fractionator receives a liquid demethanized mix from Oklahoma, Colorado, Texas, New Mexico and Wyoming, and separates that into five components – ethane, propane, butane, isobutane and natural gasoline. Williams' recently completed Bluestem expansion project provides a critical connection that transports NGLs from Conway to Kingfisher, Okla.